The tale I wrote at MSNBC.com back in 2002 on December 18, the day nine "visions of Ground Zero's future" were unveiled in a design competition to rebuild the site, has long since been deleted from cyberspace. I offer it here as a lost document for the 10th anniversary of 9/11. If you detect a skeptical tone, ignored by the headline, you aren't wrong.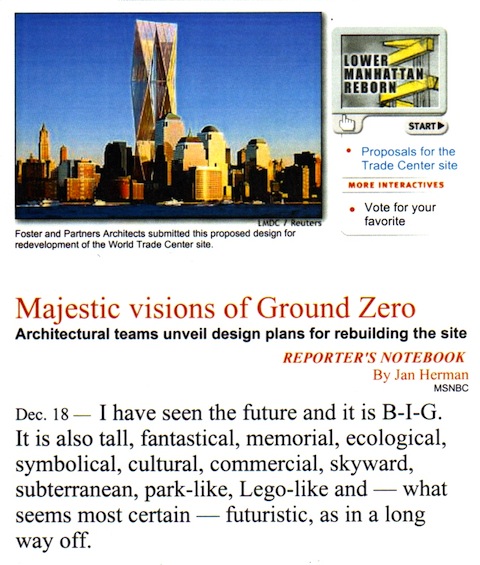 I am talking about nine visions of Ground Zero's future, unveiled this morning by seven teams of architects, urban planners and artists who were chosen by the Lower Manhattan Development Corp. to create designs for rebuilding the World Trade Center site.
For more than three hours, a torrent of utopian words and images filled the glass-covered Winter Garden across the street from Ground Zero. This vast marble forum, rebuilt since 9/11 and planted with towering palm trees, looks like nothing so much as a ritzy Southem California shopping mall.
It was an inescapable if unacknowledged irony that the presentation of these hugely innovative architectural designs was made in such a conventionally old-fashioned architectural space, a sort of Edwardian dowager with modern, shopaholic touches, embraced for comfort between the dome-topped buildings of the World Financial Center.
But never mind. I know you're panting to find out: How big? How tall? How fantastical?
SYMBOLS AND TOWERS
Let's start with tall, deep and symbolical: Berlin-based architect Daniel Libeskind envisions a tower 1,776 feet high — to the inch. His design also makes visible "the great slurry walls" that descend deep below street level into the bedrock foundations of Ground Zero and hold back the Hudson River. This engineering wonder, "the most dramatic elements which survived the attack," he said, stands "as eloquent as the Constitution itself asserting the durability of democracy and the value of individual life."
You want big, tall, fantastical and symbolical? London-based Foster and Partners' plan calls for "two twinned towers that kiss and touch and become one." No height given, but it's a giant. Taking a cue from Buckminster Fuller, the design exploits "triangular geometries — cross-cultural symbols of harmony, wisdom, purity, unity and strength."
There's the human touch, too. "Architecture is about needs," Norman Foster pointed out. "But how do you define needs? How do you measure a shaft of sunlight? How do you measure dappled shade in a park? How do you measure intangibles… loss, memories, intangibles like that?"
And so his team took into account the footprints of the destroyed towers, as do all the others. Foster spoke of retaining a "void" absent of life. Others talked of a "sacred precinct." And all the teams featured gardens of one sort or another — parks at ground level, vertical gardens, terraced gardens, sky gardens.
GIANT-SIZED VISIONS
The so-called New York "dream team" of Richard Meier, Peter Eisenman, Charles Gwathmey and Steven Holl unveiled a design called Memorial Square. It's a series of 1,100-foot-high skyscrapers connected horizontally and sheathed in a high-tech skin that drinks in the sun by day and gives back a glow by night. Depending on your frame of reference, it looks like a Lego set in the sky or a giant Tic-Tac-Toe grid 81 stories tall.
But when it comes to giant-sized visions, it would be hard to beat the THINK team or United Architects. THINK came up with three different proposals, focused on what it called "the three Rs" — remember, redevelop, renew — "the response of a civilized world to the absurdity of evil." One has the Great Hall, a 13-acre plaza that would be "the largest covered space in the world" (30 stories high under a glass roof, a sort of "vestibule to the city") — all anchored by four corner skyscraper towers; another has the Sky Park, a 16-acre rooftop garden that floats above the street grid.
All of that would be dwarfed by THINK's third proposal for the world's tallest structure, the World Cultural Center, which would soar 2,100 feet high. It was presented at this stage as a lattice-work scaffolding and not as a completed structure. This scheme, THINK's Rafael Vinoly conceded, "is a little bit extreme."
United Architects, the most geographically diverse team in the competition, envisions a single skyscraper with five futuristic towers fused together at the 60th floor, presenter Greg Lynn said. This would allow for the creation of an enormous park memorial some 800 feet in the air, a skyline icon that would look like a shimmering veil and a cathedral-like space enabling the streets of the city grid below to travel through the buildings at ground level.
WILL IT HAPPEN?
I could go on forever. The presentations, after all, went on for more than three hours. But the bottom line is this: Will any of this happen? And if so, when?
"These ideas are so different and singular that I don't think we'll be able to pick individual components from each of them to combine into a hybrid," Louis R. Tomson, president of the LMDC, told me. "So there's a good chance one will be chosen. But I can't even begin to guess which one. You have to study the land-use plan and see which conforms best."
That leaves things pretty much up in the air.
(Somehow Tomson failed to mention the least visionary design by the ringers, so to speak: the Peterson/Littenberg team. It was added to the six finalists late in the game — after the competition was decided, in fact. The team happens to work as a consultant for both the LMDC and New York Mayor Michael Bloomberg. Anyone willing to bet the Peterson/Littenberg design turns out to be the "chosen" one?)
I asked Joseph Seymour, executive director of the Port Authority of New York and New Jersey, the agency with the strongest controlling interest in terms of politics and money, what he thought would happen. He brought things back to ground level.
"I don't think we'll see an office building until 2006 or 2007," Seymour told me. "Our primary goal now is a transportation hub and getting people back into Manhattan."
So tune in next year, when the land-use plan will be decided at the end of February, and after that in September, when the memorial design itself will be chosen, and maybe we'll get there by the end of the decade. There are as many possibilities, in singular or hybrid form, as there are experts. And nobody really knows what will happen.
In the meantime, let's all dream on. Or as President Bush advised LMDC chairman John Whitehead, let's let the planners and the architects "do something that makes people proud."
"2006 or 2007." Haw. Maybe we'll get there by the end of the decade. Not even. And don't ask me why I let the Bullshitter-in-Chief in there. Just shoot me.