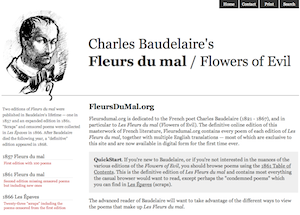 Supervert has just redesigned his Fleursdumal.org Web site, which was first launched in 2004 and is "the definitive online edition" of Charles Baudelaire's Les Fleurs du mal (Flowers of Evil).
The elegant new design is simple, and it works quickly. The site also has lots of levels, so you can dive deep. Its scholarship and devotion, whatever you choose to call it, is a literary service. Here's part of what the front page says:
Fleursdumal.org contains every poem of each edition of Les Fleurs du mal, together with multiple English translations — most of which are exclusive to this site and are now available in digital form for the first time ever.

QuickStart. If you're new to Baudelaire, or if you're not interested in the nuances of the various editions of the Flowers of Evil, you should browse poems using the 1861 Table of Contents. This is the definitive edition of Les Fleurs du mal and contains most everything the casual browser would want to read, except perhaps the "condemned poems" which you can find in Les Épaves (scraps).

The advanced reader of Baudelaire will want to take advantage of the different ways to view the poems that make up Les Fleurs du mal.
English translations on the bi-lingual site "have mostly appeared previously in book form," Supervert writes. He notes that "they are not necessarily the best or the worst" but those he "felt comfortable reproducing" in terms of usage rights. As a Baudelaire hound, he himself is "partial to Edna St. Vincent Millay's renderings."
Supervert, take a bow please.
In case you're wondering, he is not a poet. But he has written several books, including Extraterrestrial Sex Fetish, Necrophilia Variations, and Perversity Think Tank, which are a combination of philosophy and science fiction, as well as Horror Panegyric, an appreciation of the three dystopian Lord Horror novels by David Britton and Michael Butterworth.
(Crossposted at HuffPo)