The Riss diner was on 8th Avenue between 22nd and 23rd Streets in Manhattan. It's no longer there. In its place is a Murray's Bagels shop. Much less interesting. This photo illustrated the front cover of Philip Corner's The Identical Lunch, in 1973.

Click to enlarge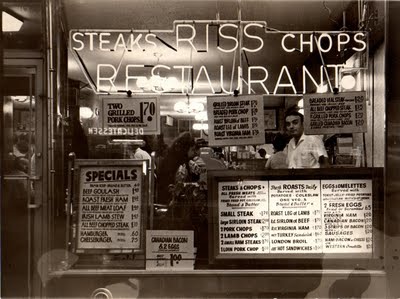 I published the book, which Graham Macintosh designed and printed, in a beautiful limited edition of 1,000 paperbound, letterpress copies under the Nova Broadcast imprint. I also took the photo of the diner, which Graham mistakenly attributed to Alison Knowles.
I didn't bother to correct the error at the time because the book was already printed. But now that there's been a spike in attention to the identical lunch as a Fluxus performance piece, and lots of attendant publicity — as well as a message from Alison asking me if I would be interested in reprinting Philip's book — I think it's time to correct the record. (I'm a long-retired publisher and in no position to bring out a reprint. But someone else might.)
Alison — whose Journal of the Identical Lunch I also published — did take the picture of the tuna sandwich and a glass of buttermilk, as attributed, that appeared on the back cover of Philip's book.