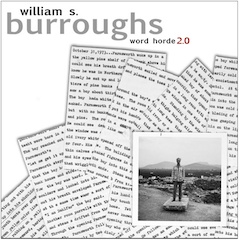 The cache, dubbed william s. burroughs word horde 2.0, is priced at $260,000. Apparently some institution, or somebody with that kinda bus fare, already has dibs on it. The dealer — Ken Lopez Bookseller — has it listed with a "hold." Here's what he has to say about the collection:
A substantial archive of manuscript material, correspondence, and books and printed matter, mostly signed. [See the inventory.] The manuscript material comprises some hundreds of pages, mostly from the 1950s to the 1980s, much of it unpublished, including:

→ 90 pages on the Carsons family: Audrey Carsons appears in The Wild Boys, Exterminator!, Port of Saints and the Red Night trilogy; in Cities of the Red Night he is the first person to be exposed to the B-23 virus that is a central element of the novel. Most of this material never appeared in print, or appeared in markedly different form;

→ a large cache of manuscript material identified as being from 1960-64 and including much material from the Nova trilogy intermingled with unpublished material from the same "Word Horde";

→ manuscript and typescripts from the 1950s, including material that went into Naked Lunch and other material left out of that book; material similar to the Yage Letters — epistolary fiction and 'routines' written to Allen Ginsberg in the early 1950s;

→ a "Scribbling Diary" (Dream Diary) from 1968, with multicolored entries on his dreams for many of the days of the year;

→ the manuscript and publishing archive for Doctor Benway, a section from Naked Lunch, expanded, and later published as a limited edition; and much more.
The description continues:
The correspondence includes hundreds of letters, including letters from Burroughs to Brion Gysin, Richard Seaver, Alex Trocchi, Richard Aaron, Mary Beach and Claude Pelieu, Udo Berger, Jan Herman, and others; letters from Gysin to Burroughs; letters from Gysin to Ira Cohen; an original "mylar image" of Burroughs as King of the Cobras taken by Cohen; numerous letters to Burroughs by most of the above individuals, and others.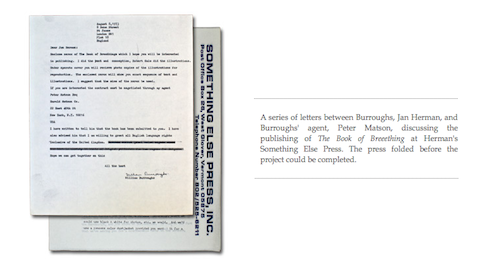 I have no idea how my Something Else Press correspondence with Burroughs about The Book of Breething turned up in this cache of papers. When Something Else Press went belly up, I passed the manuscript along to George Mattingly, who published it — beautifully, I would add — at Blue Wind Press.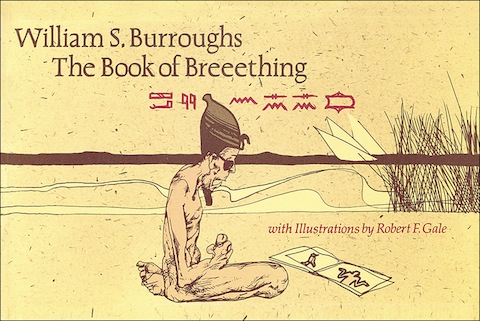 It's worth noting that the "illustrations" by Robert F. Gale are integral to Burroughs's text and comprise more than half the book. Also, Mattingly subsequently did Burroughs's Blade Runner, A Movie. (See Blue Wind's Fresh Breeze.)
Not in the cache on offer is a letter I wrote to Norman O. Mustill, about another book project — this one by Mustill — that I hoped to bring out in tandem with The Book of Breeething, but which also didn't get done at SEP due to its collapse. I offered Mustill a contract with the caveat that it was worth "one big goose egg if we go bankrupt before the book appears."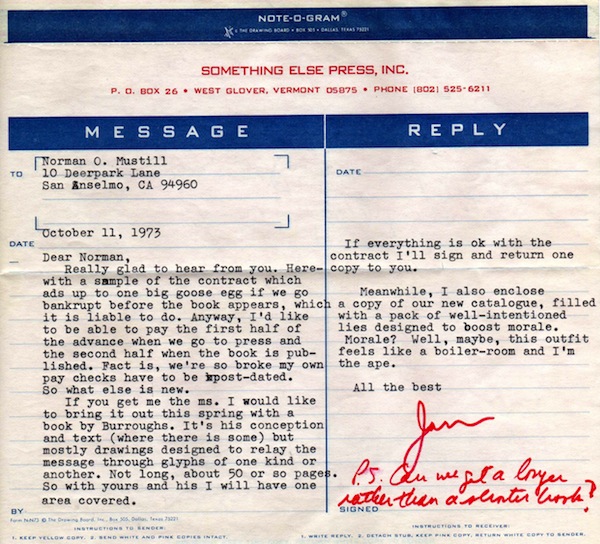 (Happily, I was able to bring out Brion Gysin Let the Mice before Dick Higgins, the founder and publisher of the press, decided to pull the plug.)
In any case, it's great to see that VDRSVP, my collaboration with Mustill from 1969 and 1970 (which included "The Moving Times" by Burroughs), is listed among the cache's rare printed materials:
The books and printed material include a large number of limited editions, foreign editions, signed and inscribed copies, including notable association copies, as well as books by others referring to Burroughs. A complete and detailed list of the contents of the archive is available on request [from Lopez]. Much of this material seems to date from before the time of the Vaduz archive that Burroughs sold in 1973, and is either material he kept at the time or material that he had parted with earlier. It is likely that this is one of the largest collections of original Burroughs material still in private hands; outside of that which James Grauerholz (Burroughs's longtime assistant) has, it may be that this is the single most extensive archive that is yet to be institutionalized. For the time being, it is being offered only as a single lot, but serious inquiries for significant portions of it are invited.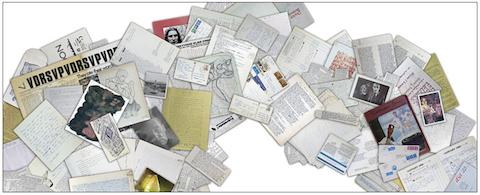 Postscript: Have a look at what Burroughs fans and collectors are saying about the cache in this forum.