A recent reminder about the "incredible translation job" done on Mary Beach's Die Elektrische Banane by Walter Hartmann and Gregor Pott got me to thinking that somebody should say it: James Joyce's Finnegan's Wake meets William Burroughs' Naked Lunch in that book.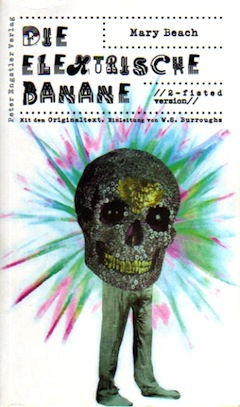 It's not the particulars of the subject matter so much as Beach's attitude of mind, which is both tough and funny, and the style of the prose, which deploys straight writing, cut-ups, and dream language, that make the connection.
So let's see what I mean. Here's a sample of the straight writing from the least experimental section of the book, which runs for 24 pages like so:
Back in the Mother Country in a resort hotel in the south of England a man with alopoecia a wide toothy smile was having tea with his one-eyed bewigged mother in the lounge of a hotel on the water front. At intervals he would break out with inanities about the weather and various deities trying to prove to the other uncaring tea-drinkers in the lounge the importance of his existence. And his old mother would nod with approval every time he opened his mouth (and that was all the time he even read the newspaper out loud). She fidgeted with her hearing aid as the waitress passed with a tray full of cakes and scones.

Two yoyos in a dead heat I thought to myself. I was always doing that it seemed but this time I had no one to talk to so I talked to myself.

The one-eyed mother sipped her tea her little finger crooked daintily over her saucer. She bit first into a cucumber sandwich and then into a watercress sandwich making a disgusting clicking sound with her false teeth. And her hairless son scanned the back pages of the newspaper. Reading a paragraph out loud describing the crippling cyclone in faraway Bangladesh. And then further on he read about a lynching that had taken place in not so faraway America. Three million and two people caught in a trap. The futility of trying to escape. Invisible prisons on the one hand and a visible one on the other. They couldn't escape you know there was no means of transportation. And so were allowed to perish within spitting distance of the mainland and no one seemed to care at all. And apparently two black men were unceremoniously strung up in front of their jail. And no one seemed to care about them either. Just an item in the newspaper. Something to read about while having tea.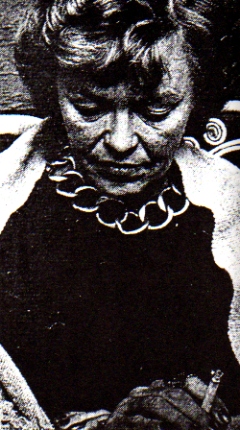 Here's a sample of the dream language from a section that runs for 45 pages like so:
"Yessiree bob!" plied Achinhead, "WHAM!" annee landed onniz big toe.
"You spookenme out!"
"Buttaz ennyone ever suck seeded?"
"Oh yessmam," maunched the trenchant sorc-doc witha nod uvvized, "but the sexcrete mussbe bungholed with flaws of Gawd tha Dawg and Materia Prima intha ebonlit uvtha grave!"
This abject mutter wuzso sticky icky there wuz nowon to ramrod it with blahblah. HUSH became the pashword forra daylightly modester whimsper.
"I've only found three candy dates fotha inkslingling burial-battel: A Sore Bone Pie Near, an ornery limbmumbler uvsum Ackendemick Sosighety or udder witha erudickle freek who cuntrived letters forra cuntsidereal summuv moola meddles or press tige. His monica was CRANIUM-MUCAS Achinhead andy spunround a genius weblike to cunfooze ewmanity."
Then shipahoil fortha Noo World!
But lo 'n' bescan an watcha know his windjammer sank totha bottomsea withalliz belonginglings poor man.
He handulled the ribbuns and pulledtha strings needed an saveddiz collecshun of fucksum and jissum an phone funny signachurs, gardingem preshussly azza fambly relic, buttee was no longer hogbound beitha idem piety as before. There was nottathing fleshasplush or blay tent bouttim!
And here's a sample of the cut-ups from a section that runs for 25 pages like so:
"Jump 'em! Get 'em! He has cornpone opinions!"
Smoke & cigarettes dangle from the Gentleman's flabby lips hovering over a bed of pure love — An ivory prick is raised, poised & ready to enter.
"I fuck evreesing zat moves," chants Chano Pozo.
My blood feels like a swamp of slaps filled with molten iron — waiting — exploding — white hot embers hiss on the sun & on the moon a cool stream of jissom.
"Confessions of a white sound," says Roger K. Bullshit smeared all over this green land of ours — tired of living but ascared of dyin,' fed up — SILENCE! ALL OF YOU, GODAMMIT! — Blue — seasons have nowhere to go but on & on — Nothing left for me here, nothing at all, all that I can see are homespun pimples in Hicksville & white clouds that cast black shadows over the Great Plains.
"Stop making that noise when you eat, nothing disgusts me more than that — UGH!" The smacking stopped for a moment & then he forgot.
"What a shit," I mused. "And what an asshole! You can't take him anywhere with manners like that!
Burroughs wrote an introduction for the book, calling The Electric Banana "a unique auditory experience approaching the actual found sounds of language as it mutters half a street sign repetitive argument overheard conversations bits of pop songs in millions of minds like some gigantic octopus with myriad tentacles."
"The words go round and round," he noted, "and come back where they started from and start again as we glimpse language seen in spatial perspective as an immense organism talking through throats of the world — it's the greatest show on earth folks — living breathing ventriloquist's dummies — millions and millions of Electric Bananas."
Incidental intelligence: Earlier I wondered why there hasn't been an American edition of the book. My mistake. Cherry Valley Editions, operated by Beach's daughter, Pam Plymell, and the poet Charles Plymell, published the book in 1980. It was called A Two-Fisted Banana: Electric & Gothic. The Germans have done The Electric Banana more than once. The first time, back in 1970, Melzer Verlag published an earlier version of the text (in translation by Carl Weissner) without the original English.
Postscript: I'm told that copies of the 2008 edition of Die Elektrische Banane, published by Verlag Peter Engstler in both English and German, are available from either Cherry Valley Editions (via e-mail: cveds@nycap.rr.com; via snailmail: P.O. Box 303, Cherry Valley, N.Y. 13320) or from Water Row Books.