I just finished reading a juicy crime novel, Grace, set in the Bay Area in the summer of 1972. It's about the murder of the title character, a race track worker whose body is fished out of San Francisco Bay. She was beautiful, white, and promiscuous — and she was in love with a black man. Not just any black man, but the head of security for the Black Panther Party in Oakland, who the police are convinced is a cop killer. Which has made him Public Enemy No. 1. Naturally, he's arrested for Grace's murder.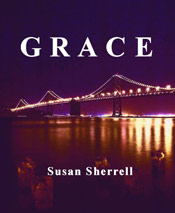 Trouble is, a female acquaintance of Grace's — a young white Cal Berkeley student who also works at the track — has proof that he couldn't have killed her. It's an intriguing set-up and so are the ensuing complications.
Grace does what a crime novel should do. It creates suspense, develops an authentic atmosphere, and paints a particular time and place with all the right touches. The characters get up off the page. And the dialogue rings true from beginning to end.
The story also turns out to be something of a bildungsroman that revolves around the narrator as she delves into Grace's life and the events leading up to the murder. Needless to say, the issue of race plays a major role, not to mention Cointelpro, the Phoenix Program, and the Vietnam War.
It's possible that because I once lived in the Bay Area and knew the locale, including particulars like the race track, the Berkeley streets, and so on, I got a special charge out of the book. Many of the details about the narrator and several of the key characters seem factual, or close to it, which may be why Grace gets things so right. But it takes a real writer to make that happen.
Full disclosure: The author, Susan Sherrell, is the sister of an old friend of mine, Gail Chiarello. But who knew Susan had this kinda stuff in her? I didn't. Fuller disclosure: Gail is the publisher of the novel, along with other books at Workwomans Press.
Here's an excerpt from Grace. And here's Susan talking about the book in a radio interview.
Postscript: May 29 — Yesterday Susan read from the novel on "Cover to Cover" at KPFA (94.1 FM) in Berkeley. It's available for the next two weeks.
Cover to Cover Open Book – May 28, 2010 at 3:00pm
Click to listen (or
download
)