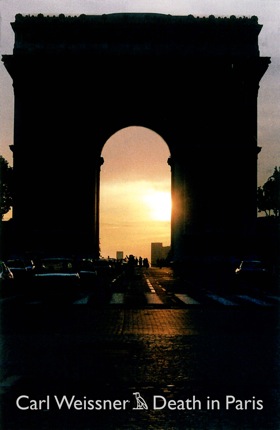 Our old amigo has written a stunning new book, Death in Paris, which realitystudio.org has just posted online. It's wild. The epigraph (from Raymond Chandler) sets the tone: "There must be idealism, but there must also be contempt."
Weissner begins with an "Establishing Shot" …
He woke at 3 AM. Dim yellow light filled the room. Smog had descended on the city, filtering the bright lights of the hotel. The city was cast in a sinister sepia, as in a 1930s gangster movie. 'I should have killed myself when it still made sense,' he thought. He closed the curtains and went back to bed.
… and he follows up with a "Near-Collision in the Main Character's Subconscious" …
The Hotel Bogotá, close to a hundred years old, had been kept in shape with an attitude of bored efficiency. Room service was non-existent, but there was a fat stream of brown water from every tap in the building, and the ceiling fans blew the sweat off your face in sheets. The hotel had two elevators whose cabins moved soundlessly through shafts of soot and axle-grease. In one of them, Gerald Lake rode down at 7:50 in the morning, and entered the ground floor Starbucks from the lobby.

At the far end, near the street exit, the familiar silhouette of a man in his mid-seventies made the small hairs on the back of his neck crackle with the voltage of pure hatred. He had always felt sure that he had killed his father ten years ago in Germany, by deliberately steering the car, with the old man in the passenger seat, into the concrete pillar of a bridge across Highway 3 near Cologne. He had been somewhat less than half conscious when firemen cut him out of the wreck with acetylene torches, his face swollen and rainbowed, coated in abrasions, bloody lips and cheeks flecked with tiny shards of glass. Before they could shove him into the EMS truck, he was in a deep coma. When he emerged from it after six months, his doctors showed him a letter with a photo of his father's grave somewhere in southern Germany. His stepbrother, Tony, who worked for a large software outfit down there, had made the arrangements and handled the paperwork.

Lake turned around unsteadily and crossed the diamond pattern of black and white marble tiles that had earned the Bogotá the dubious distinction of a San Francisco landmark. He pushed through the heavy slow-motion revolving door, turned left and started looking for a cab.
"To nip any discussion of appropriation in the bud," Carl says in an email, "I am not the author of every line in the book. It is, like The Braille Film, a book by several authors, living and dead. One of them myself." Realitystudio.org has also posted an introduction to Death in Paris, along with an archival roundup of Weissner's many fugitive texts and editorial collaborations.
(Crossposted at HuffPo)