In London The Guardian posted its obit Sunday at 9 p.m., which means it went live in New York at 4 p.m. But this morning's print edition of The New York Times makes no mention of Ballard's death.
OK, print is slow — but not that slow. And how come there's no obit on the NYT Web site either? Not even a link as of 8:50 a.m. ET this morning on its obit page, which looked like this. (Screen grab, right).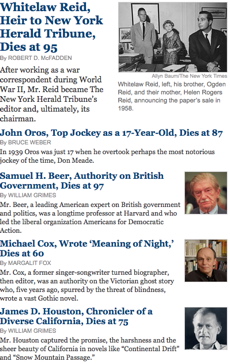 It's not as if the news was The Guardian's alone. Or that Ballard was unimportant. Here's the lede from the obit in The Times of London:
Pinteresque, Dickensian, Shakespearean. Not many writers are so distinctive and influential that their name becomes an adjective in its own right. J. G. Ballard, who died yesterday morning after a long battle with cancer at the age of 78, was one of them.
It goes on to cite the dictionary definition of "Ballardian" as especially suggestive of "dystopian modernity, bleak man-made landscapes and the psychological effects of technological, social or environmental developments."
I heard about Ballard's death from a friend via email at 7:10 p.m. ET on Sunday. And another friend at realitystudio.org let me know at 8:29 pm ET: "There's already a thread on the RS forum."
The Telegraph's obit was posted Sunday at the equivalent of 4:53 p.m. ET. The BBC had an obit posted at the equivalent of 5:19 p.m. ET. And Yahoo posted the AP obit at 11:40 pm ET.
There were other postings, too, like Michael Moorcock's, which was probably the earliest, or the blogpost at REsearch and the one at Ballardian. Even the Los Angeles Times has posted an obit and, what's more, an appreciation. So somebody was asleep at my paper of record.
(Crossposted at Huffpo)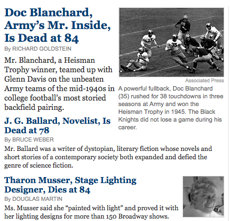 Postscript: April 21 — This morning's NY Times carried a well-made Ballard obit, describing him as "a writer of dystopian, literary fiction whose novels and short stories of a contemporary society in insidious thrall to technology, the media and relentless progress both expanded and defied the genre of science fiction."
Bravo for that. It's nice to know the editors were not too busy celebrating the paper's five Pulitzer Prizes to overlook the news of his death. It would have been nicer, though, had they acknowledged his importance by playing it on the Web site's obit page above Doc Blanchard's. Ballard is likely to be remembered in the historical record long after "a Heisman Trophy winner [who] teamed up with Glenn Davis on the unbeaten Army teams of the mid-1940s," no matter how "storied [that] backfield pairing" was.
Meanwhile, Michael Moorcock has posted a striking tribute to Ballard, who was a close friend of his for 50 years. It is heartfelt and revealing, and offers personal history as well as literary context.