Henry Kisor has posted on his news blog an item called The 'Inept Blob' vs. the 'Inhuman Turd,' about the nasty friction between the novelist Nelson Algren (a literary great, in my opinion) and the editor William Targ (a not-so-great, in Algren's opinion).
Which reminds me: Dan Simon's Seven Stories Press has just published "Algren at Sea," a centennial edition that combines two out-of-print books ("Notes From a Sea Diary" and "Who Lost an American?"). Algren was born 100 years ago this month — on March 28, to be exact.
Seven Stories describes the two-fer as "travel writings," and that's accurate up to a point. But the pieces are much more than that, a lot of them deeply considered cultural essays and many others pure entertainment. For instance, this satirical vignette about Alfred Kazin (someone else Algren didn't think was so great) begins like this: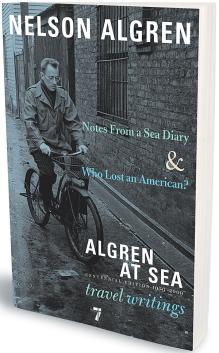 I once went to New York for the skating at Rockefeller Plaza and was sharpening my skates when the telephone rang. A woman's voice, sounding like a cross between a crow's and a barbed-wire fence, informed me, "Alfred Bovine would like you for dinner."

"I don't blame him," I assured this charmer, and hung up. The phone rang right back.

"Don't you like lasagna?" the same voice inquired.

Realizing that Bovine had altered his plan of attack, I went down to the lobby with my skates under my arm.

They were waiting for me. I didn't place him right off, but he had the air of a pool-hustler who works days in an embalming parlor. He liked me too.

All the way to the restaurant they took turns recommending the lasagna.

"I'm a meat-eating mouse," I had to let her know.

We entered one of those Italian joints where all the waiters look like they want another crack at Ethiopia.

"Three orders of lasagna," Bovine decided.
Algren, the most quotable of authors, continues:
… I'd finally placed him as a distributor of well-packaged precepts whom a friend of mine had once described as "too timid to damn and too stingy to applaud." But all that had been before my time. …

"I'm doing a critique on Hemingway for Commentary," Bovine let me know. "Where are the great writers?"

"I read your papers on the Failure of Steinbeck, the Failure of Faulkner, the Failure of Fitzgerald, the Failure of Wolfe, and the Success of Irving Shulman," I filled him in. "I can hardly wait to read this one."
And so on. Is it any wonder that Kazin, among his many chores, made it his business to write on the Failure of Algren, too?
Just how wrong Kazin was can be seen at Seven Stories, which has thrown Algren a beautiful posthumous lifeline. It has now brought out eight of his books, including six that had been out of print, one that had never been published, and a 50th anniversary critical edition of his most famous novel, "The Man With the Golden Arm," plus a book of vintage photographs by Art Shay that capture Algren in his old Chicago haunts. Another collection of unpublished fiction and essays is due out in April. I'm waiting for the day when Farrar, Straus and Giroux lets my favorite Algren novel, "A Walk on the Wild Side," go out of print, so it can join the Seven Stories lineup. Where it belongs.
(Crossposted at HuffPo)