The one-stop shop for all things William Burroughs, RealityStudio, has had a design overhaul. "I was really anxious not only to spruce up the site a bit, but to make the range of content more apparent," RS godfather Supervert says. "With the old site, a random visitor would have had no idea just how much content there is."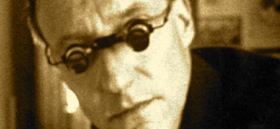 You want scholarship? There's Jed Birmingham on "the Burroughs connections and important small-press background that the recent obituaries of publisher Richard Seaver neglected to provide"; Ian MacFadyen on "the last painting of Brion Gysin," Burroughs' chief collaborator and a man of genius in his own right; and Oliver Harris on "the holy shit of Burroughs and Kerouac." Those are only the most recent attractions.
You want multimedia? Go to the RS video and audio page. You want news? Check out RS's sister site NakedLunch@50 on the upcoming celebration this summer in Paris. You want obsession? Have a look (via an RS link) at every book cover of every edition of every Burroughs book ever published. (I counted 437, domestic and foreign. Could there be others? I guess. The page modestly says it's "a selection.")
Speaking of book covers, activist Ginger Killian Eades is no slouch in that department. She made two slide shows of covers. Here they are: Transcontinental Junkie and WSB Books by HighJivers. She also reminded me of the swingingest version of Gysin's permutation poem, Junk Is No Good Baby. That's Gysin voice you hear, from 1962. Yeah.
(Crossposted at HuffPo)

I have since come across this KPFA-FM radio recording by accident. It totally suprised me. I had no memory of it until I tuned in.

The archive at radiOM.org notes:
In a program that was recorded on Feb. 13, 1970, [in Berkeley, Cal.], Jan Herman reads from the 5th issue of his magazine "San Francisco Earthquake." The title of this particular issue was "VDRSVP." The reading includes works by Sinclair Beiles, Carl Solomon, Carl Weissner, Annie Rooney, and Jan Herman, chosen at random, and read here as if they were all part of the same piece. Jan Herman was at the time a publisher of avant-garde literature, who in addition to his magazine, also brought to print various pamphlets by Dick Higgins, Liam O'Gallagher, and William S. Burroughs under the Nova Broadcast imprint. This particular reading serves as a classic example of the sort of cut-up literary style that was championed by such writers as William S. Burroughs, and which was quite popular in the late 1960s and 1970s.
Hooray for me. Here's another link, so it must be true: A reading by Jan Herman (April 6, 1970). That's the date it was first broadcast. The intro is by Charles Amirkhanian, the composer. He was KPFA-FM's music director at the time.