Oh shit. Studs Terkel has died. He was 96. He was the blackest white man I ever met. Blacker even than his lifelong friend the novelist Nelson Algren, another black man who happened to be born white.
Anyway, here's what several former Chicago Sun-Times colleagues of mine had to say.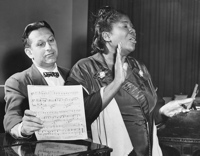 Roger Ebert: "Was he the greatest Chicagoan? I cannot think of another. … If you met him, he was your friend."
Henry Kisor: "More times than I can count I was the recipient of his extraordinary personal generosity. … He was looking out for you, not himself."
Rick Kogan: "Studs sought the daydreams and 3 a.m. truths of many a person who never made a headline. They were all somebodies to him."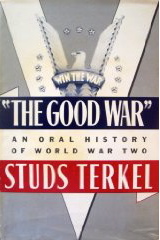 The last time I saw Studs was in 1995, in Los Angeles, where I was working at the LA Times. He'd come to town to promote his latest book of interviews, "Coming of Age: The Story of Our Century by Those Who've Lived It," and he insisted I have lunch with him. We'd met years earlier in Chicago, through Algren.
Lunch, it turned out, was served in a private Times dining room. The editor in chief, Shelby Coffey III, was waiting for him and surely not expecting him to bring along an uninvited guest. A mere reporter at that.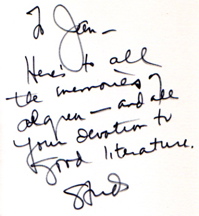 Studs didn't care. What he cared about was that I'd been a friend of Algren's. And that's how he introduced me.
Of all the personally inscribed books by Studs that I have on my bookshelf, the inscription in "'The Good War': An Oral History of World War Two," which won a Pulitzer, pleases me the most.
Naturally.
Postscript: Best tribute to Studs that I've read.
PPS: Nov. 22 — The New Press is to host a memorial celebration of the life and work of Studs Terkel on Sunday, Dec. 7th, at 4 p.m. in The Great Hall of Cooper Union (7 E. 7th St. at Third Avenue) in Manhattan. It is open to the public and free of charge.
Participants will include: Jimmy Breslin (author and Pulitzer Prize-winning columnist); Steve Earle and Allison Moorer (musicians); Laura Flanders (host of GritTV and RadioNation, and bestselling author); Sydney Lewis (Studs's longtime friend and collaborator); Victor Navasky (author, publisher emeritus of The Nation, and Director of the George Delacorte Center for Magazine Journalism at Columbia Journalism); Andre Schiffrin (founding director of The New Press and Studs's editor and publisher); Dan Terkell (son of the late Ida and Studs Terkel); Katrina vanden Heuvel (editor and publisher of The Nation); Gary Younge (columnist and feature writer for The Guardian); Howard Zinn (historian, activist, and prize-winning author of A People's History of the United States).