If you think people have gone nuts for Obama memorabilia — they bought stacks of newspapers marking the Obama victory — get a look at the book collectors' market.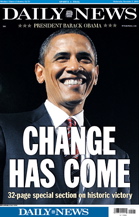 With enough scratch you can pick up a boxed set of Dreams of My Father and The Audacity of Hope for a meager quarter mil. Here's the pitch: Book Price $250,000. Quantity: 1
You think 250 grand is too costly? Hey, it's signed. But if you're really looking for a bargain, check out this list of signed Audacity copies priced from $1,275 to $9,800.
Not incidentally, that boxed set is being sold by a bookseller in Arizona, of all places. Ya think the Gasbag might want the set? He can afford it, and he could inspect it in person. All he would have to do is hop into his SUV and take a drive over to Scottsdale.
Hmm … maybe he would prefer to pick up, oh, 10 signed copies instead — like this $2,500 marvel — one for each of his residences, or however many he owns. Whaddya think?

About the set:

Dust jackets for both books in Brodart protective mylar. I have had a custom clamshell box made for this set, with engraving on the box stating, 'Barack Obama, Dreams From My Father and The Audacity of Hope, Signed First Editions'. This box will protect what may be the zenith of American Presidential collectibles. These are both true first editions: Dreams From My Father (Times Books, 1995) with First Edition stated and number line to 2 per Random House standards in year of publication (the publisher, Times Books, was acquired in 1984 by Random House From the New York Times Company), and The Audacity of Hope (Crown Publishers, 2006) with First Edition stated and number line to 1 per Random House standards in year of publication (the publisher, Crown Publishers, was acquired in 1988 by Random House From the Crown Publishing Group).

They are both As New in As New dust jackets. Both books were signed by then Senator Obama in my presence at an appearance on October 23, 2006 at the Changing Hands Bookstore sponsored event at the Orpheum Theatre in Phoenix, Arizona. I was employed by Changing Hands at the time as a manager and worked there for nearly nine years. I have ephemera, including an untorn event ticket, advance bookstore event notice and seat reservation slip, all in pristine condition. In addition I have a signed letter from one of the owners of Changing Hands Bookstore confirming my employment, presence at the signing event in Phoenix and personal ownership of both titles.
Please inquire about availability of a photograph of Obama at the signing event, printed and framed to proudly display. It will be nearly impossible to get close to Obama from now on, let alone have him sign a book. Dreams From My Father had a limited print run, rumored to be around 20,000 copies, and sold only between 8 and 9 thousand, so most are long gone, either ex-libris or lost to time (print run citation from a January, 2007, Washington Post article on Obama and sold citation from a May, 2008, New York Times article on Obama). The Audacity of Hope had a much larger print run, in the six-figures, and has sold hundreds of thousands of copies to date. Obama's contract from Crown and reported advance of $1.9 million was for three books, the second to be a children's book about his life and the third as yet undefined, so we can expect more literary output from this true American success story. There are no other copies of this set available anywhere with such impeccable provenance. Pictures available upon request.

Or maybe Sarah would like to have the set? The BananaRepublican Party could get the tab for her.