As mentioned here at the beginning of the week, "there must be millions of cleverly individualized videos like this one circulating now."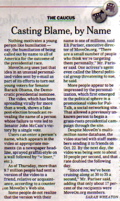 But whether it's the "novelty of personalization" achieved through "multiple layers of Flash animation" or the "third order of simulacra," PalTalk got there first with its faux presidential candidate Sarah Wheaton. Watch the video.
… there is one candidate that may be able to make the difference. Wheaton has surprised both Democrats and Republicans with a grass roots effort. This candidate has made many wonder: Who is Sarah Wheaton?
And today The New York Times catches up with the phenomenon, explaining it all in a little story signed by — yes, Virginia — Sarah Wheaton.
(Crossposted at HuffPo)