I mean McCain of course. Seems to me that Andrew Sullivan, live-blogging last night's Nashville encounter between Obama and the overheated Gasbag, got it just about right: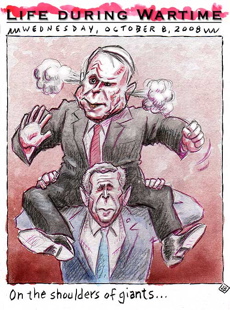 9.51 pm. Why is McCain wandering around the stage .?. It's weird. He looks like an old man pacing aimlessly.
10.33 pm. This was, I think, a mauling: a devastating and possibly electorally fatal debate for McCain. Even on Russia, he sounded a little out of it. I've watched a lot of debates and participated in many. … All I can say is that, simply on terms of substance, clarity, empathy, style and authority, this has not just been an Obama victory. It has been a wipe-out. It has been about as big a wipe-out as I can remember in a presidential debate. It reminds me of the 1992 Clinton-Perot-Bush debate. I don't really see how the McCain campaign survives this.
And the editorial cartoon Josh Brown posted this morning on his weekly visual blog Life During Wartime puts the exclamation point on it. Thanks, Josh.
One disclaimer, though. Methinks Sullivan places too much faith in the honky booboisie.