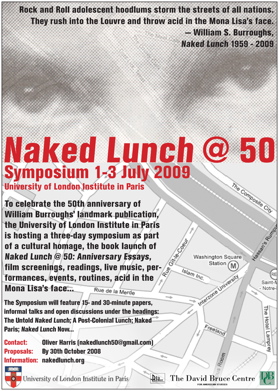 Two of my favorite passages in Naked Lunch are "Dr. Benway Operates" and "The Man Who Taught His Asshole to Talk." But my favorite description of the book comes from William S. Burroughs's explanation of the title.
"The title" — which Burroughs credited to Jack Kerouac — "means exactly what the words say: naked lunch, a frozen moment when everyone sees what is on the end of every fork."
Of course, not everyone did, including the Paris-based publisher Maurice Girodias, who rejected the manuscript at first. But he changed his mind and brought out the original Olympia Press edition after hearing that excerpts published in a Chicago literary magazine had been declared obscene by American postal officials.
"This, he knew, would make publication of Naked Lunch in the United States impossible," Burroughs biographer Ted Morgan writes in Literary Outlaw, and "publishing suppressed books was his speciality."
Actually, the Girodias specialty was "dirty books" suppressed or otherwise, which appeared in Olympia's English-language paperback series, the Traveller's Companion. Most of the books in the series were strictly porno, sold under the counter and dashed off by expatriate writers living in Paris who used pen names like Akbar del Piombo (Norman Rubington) and Count Palmiro Vicarion (Christopher Logue).
But some were genuine literature — Vladimir Nabokov's Lolita, Terry Southern and Mason Hoffenberg's Candy; Pauline Réage's The Story of O; Georges Bataille's pseudonymous A Tale of Satisfied Desire. And some were not even pornographic — J. P. Donleavy's The Ginger Man, for instance, or the Samuel Beckett novels Watt, Molloy, Malone Dies, and The Unnameable.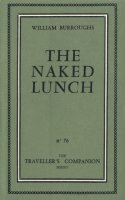 Pretty good company for Burroughs who was down on his luck, living at 9 rue Git-le-Coeur in Room 15 of what came to be called the Beat Hotel, and nursing his usual narcotics habit.
By now, a half-century on, Naked Lunch has been translated into two dozen languages and published in more than 50 editions. None of this will come as news to devoted Burroughs fans. But all of it is likely to be examined more closely by scholars, critics and other riffraff in Naked Lunch @ 50: Anniversary Essays, co-edited by Oliver Harris and Ian MacFadyen.
One thing I wonder about: Who inserted that godawful The into the title of the original Olympia Press edition? And why? Have you ever heard of The Moby-Dick? How about The Crime and Punishment?
The book of essays is to be published next summer by Southern Illinois University Press and launched during a three-day symposium that Harris is organizing (July 1-3, 2009) in Paris. As the symposium poster says, there will be "15- and 30-minute papers, informal talks and open discussions under the headings: The Untold Naked Lunch; A Post-Colonial Lunch; Naked Paris; Naked Lunch Now," as well as "film screenings, readings, live music, performances, events, routines" and "acid in the Mona Lisa's face."
As the poster also indicates, the names of various streets in the Beat Hotel 'nabe will be changed for the symposium:
Rue Saint-André des Arts becomes Rue de la Merde.
Rue Danton / Place Saint-Michel is renamed Interzone University.
Islam Inc. connects Rue Git-le-Coeur and Interzone.
Boulevard Saint-Michel and Pont Saint-Michel become Hassan's Rumpus Room.
The Saint-Michel metro stop is renamed Washington Square Station.
Rue de la Harpe becomes The Hotel Lamprey.
Freeland connects Lamprey and Interzone.
And the Quai des Orfevres on the Right Bank just across the Seine becomes The Composite City.
Those name changes are as yet unofficial.
(Crossposted at HuffPo)