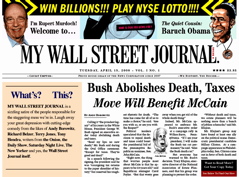 Update: April 21 — Now have a look at "Murdoch, Ink," Newsweek's huge takeout about the actual WSJ that hit the street today. In the orotund prose of magspeak:
With its increased focus on politics, international news, culture and sports, Murdoch's reconceived Journal represents nothing short of a formal declaration of war on that most venerable of journalistic institutions, The New York Times. Not since William Randolph Hearst's New York Journal challenged Joseph Pulitzer's New York World in the late 19th century has there been such a clash of newspaper titans.
Give-'em-hell Rupe offers his own sedate description about some of what he's up to in this morning's unsigned column, "The New Opinion Pages." OK, I'm exaggerating. Paul Gigot may have written it, or someone who reports to him. But you can be sure Rupe looked it over and gave his approval.

In case you failed to click the cute link: