The BananaRepublic keeps it going … six months at a time. Click the link. It's a smart video from moveon.org.
Postscript: I see I completely overlooked the ABC News report on the top war criminals in the White House. It's not as if we didn't already know who they are. But the report — in the mainstream media, let's not forget — gives vivid details worth noting.
Watch the report: Bush advisers approved torture.
Or read the print version.
Cheney, Rice, Rumsfeld, Powell, Tenet and Ashcroft approved torture in "top-secret talks and meetings in the White House," the report says. "These high-level discussions" about so-called enhanced interrogations techniques "were so detailed" that they virtually "choreographed" what would happen in some interrogation sessions.
"Rice chaired the meetings," ABC said. Ashcroft agreed with the torture policy and declared it legal but was worried because, in his words, "senior White House advisers should not be involved in the grim details of interrogations." Rice "was decisive," however, and according to ABC News, she told the CIA, "This is your baby. Go do it."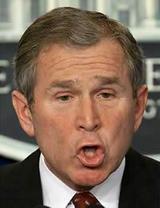 PPS: April 12 — In a follow-up, ABC News reports: The President With His Head Up His Ass says he knew his senior advisors "discussed and approved" tough interrogation methods torture. Well of course.
Furthermore, my staff of thousands informs me that it prefers to call the shmuck in the White House by his old moniker Bullshitter-in-Chief. Given his latest comments in an interview with ABC News, I agree.
He admits to Martha Raddatz that in 2006, although he believed conditions in Iraq were disastrous and his war strategy "was failing," he spun the truth by continuing to insist publicly that America was winning. "You can't have the commander in chief say to a bunch of kids who are sacrificing, either, 'It's not worth it,' or 'You're losing.' I mean, what does that do for morale?" (Thanks to Sheryl Gay Stolberg for the reminder.)
So there you have it. Bullshit is better for morale than truth. He wins back the old moniker (although I have to say, Dick Cavett's term for him — tinpot Genghis Khan of Crawford, Texas — would do just as well).
Update: April 20 — The lead editorial in today's New York Times — "The Torture Sessions" — makes some excellent points about the secret White House meetings. Here's one:
The amount of time and energy devoted to this furtive exercise at the very highest levels of the government reminded us how little Americans know, in fact, about the ways Mr. Bush [the Bullshitter-in-Chief] and his team undermined, subverted and broke the law in the name of saving the American way of life.
We're glad The Times finally got around to chiming in. But the hope it expresses that "a new Congress and a new president" might provide "the full truth," let alone hold the war criminals to account, is rosy at best.
The Times knows that, of course. Even so, it offers a bromide for the Pollyannas that "only by fully understanding what Mr. Bush [the Bullshitter-in-Chief] has done over eight years to distort the rule of law and violate civil liberties and human rights can Americans ever hope to repair the damage and ensure it does not happen again."
What about the damage that is not repairable? Uh, take two aspirins and call us in the morning …