Does it matter to the pols running for prez? Does it matter to the people voting for the pols? Let's see whether the latest estimate of the civilian death toll in Iraq makes the agenda.
Doubtful. Why should it? It's old news. It's all about the first three years of the war. We're well past that. We're going on … what? … five years?
Besides, the number of the dead — 151,000 between 2003 and 2006, according to the World Health Organization — doesn't even come close to the 655,000 estimated earlier by researchers from Johns Hopkins.
Yes, the numbers are all over the lot, depending on the source and methodology. Here's a count of documented deaths based on actual reports, not on estimates. As of today, it's only 80,419 to 87,834. Ahhh … whatever.
(Crossposted at HuffPo)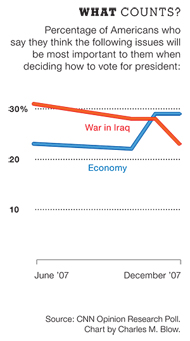 Postscript: Jan. 13 — Here's the lede in Noah Feldman's article this morning, "Vanishing Act," in the Sunday NYT magazine:
What if the United States were at war during a presidential election — and none of the candidates wanted to talk about it? Iraq has become the great disappearing issue of the early primary season, and if nothing fundamental changes on the ground there — a probable result of current policy — the war may disappear even more completely in the new year.
I don't agree with Feldman's general posture on Iraq war policy or with his analysis, which strike me as compromised by his establishmentarian point of view. But I like what he's getting at, as shown by the chart that accompanies his article. And while I don't like what the chart shows, I like the fact that it answers some of what I asked.
I also appreciate his reference to the Tommy Lee Jones flick "In the Valley of Elah." I thought it was the best movie of 2007. As Feldman indicates, it was ignored by moviegoers. Worse, in my opinion, it was shunned by the critics. I kept looking for it on their "10 best" lists. Couldn't find it.
It was not among the picks of the National Society of Film Critics, the American Film Institute, the New York Film Critics Circle, the Los Angeles Film Critics Assoc., or the Chicago Film Critics Assoc. It did not make Roger Ebert's list, Village Voice critic J. Hoberman's list, or Newsweek critic David Ansen's list. And it was ignored by all three NY Times critics, failing to make Manohla Dargis's list, A.O. Scott's list, or Stephen Holden's list.
Oh yeah … it did make Time critic Richard Schickel's list and his colleague Richard Corliss's list. They both ranked it No. 8, which I have to say is like pinning the tail on the donkey.