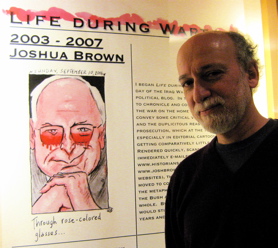 The puppet master looks like your friendly uncle with a Cheshire cat grin and rose-colored glasses that drip with what? … strawberry soda? … cherry syrup? … Aw gee, have a closer look, it's blood.
Artist Joshua Brown, who drew the caricature as a diary entry for his visual political blog Life During Wartime, says that before the invasion of Iraq he was fooled into believing "it was going to be a short, ugly, bloody war and that American influence in the Middle East was going to be triumphant."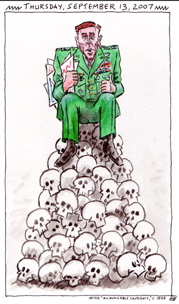 It's a telling admission, because Brown's main occupation is teaching radical social history. (He is a grad school professor with a long list of scholarly works to his credit.) But candor is typical of him and worth keeping in mind when looking at the exhibition of all 270 diary entries now on view at The Graduate Center, CUNY, in Manhattan.
Brown trained as an artist before getting his Ph.D. in working-class history at Columbia. (Two murals he painted in 1979 for Yoko Ono and John Lennon apparently still decorate her apartment in the Dakota.) These days he heads the American Social History Project/Center for Media and Learning based at the Grad Center.
Brown began doing his visual blog on the first day of the Iraq war. In a statement for the Life During Wartime exhibition, he writes: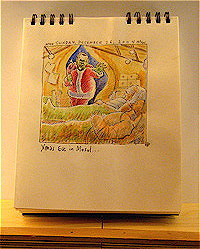 In the beginning I intended to chronicle and comment on the impact of the war on the home front — and also to convey some critical views about the war and the duplicitous reasons for its prosecution, which at the time, and especially in editorial cartoons, were getting comparatively little public access.
Starting with a rush, he posted a diary entry "every two or three days," Brown says. He then settled down to posting them once a week. "It was the first time I had done art regularly in 30 years," he adds. "I'm not happy with every one by a long shot, but I don't feel lost." Politically, however, he still feels "pissed off, frustrated and ineffective. I must say it doesn't feel cathartic."
(Crossposted at HuffPo)

Change of subject: Jan. 29 — The email message from Moveon.org began, "If you're like us, you dread watching the State of the Union. It's depressing: The doublespeak, the distortions, the incessant Republican applause for far-right policies and words that mean nothing."
True, but the message didn't go far enough. It should have continued like this: "It is never more apparent than during the State of the Union that the pols in the Congress on both sides of the aisle are a clubby class apart, all of them wedded under the skin."
Last night there she was, Nancy Pelosi, the leader of the so-called opposition, smiling like the queen of a beauty pageant, applauding the President With His Head Up His Ass — and applauding and applauding — long after decorum required, thus setting a deferential tone for his reception. (At least Harry Reid, for whom I have no great love, sat stone-faced.)
And we, the poor schmucks of the electorate, got to watch.
Postscript: Jan. 30 — Furthermore, is anyone these days writing a funnier, more penetrating column than Mark Morford? If there is, I don't know about it. He even gives great link. Read his latest. It's about the 935 lies.