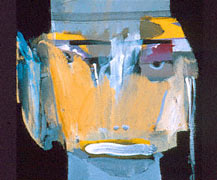 Our old friend Liam O'Gallagher, the artist and sound poet, checked out on Dec. 4 in Santa Barbara, Ca. He had a good run, though.

He turned 90 in October. Coincidentally, the date of his death is almost the same (it's off by a day) as that of Sri Aurobindo, the yogi master whose teachings he greatly admired. (E.g.: "An inch of experience goes farther than a yard of logic." "The example is more powerful than the instruction." "Yoga means a change of consciousness; a mere mental activity will not bring a change of consciousness, it can only bring a change of mind.") Liam was buried in Santa Barbara. He is survived by Robert Rheem, his partner of 58 years.
"Color signals paintings on the wall with its occult eye that a black canvas contains interstellar space it is our emotions that give shape to invisible worlds and leave abstract imprints on human cells not limited to electronic information they need not be comprehensible in order to be revelatory art is a medium wherever and instantly the mind can behave non-locally and in dark matter the random factor is where the unhinged achieve this orbit and the unspeakable appears in a biological library to answer questions about the meltdown" — Liam O'Gallagher
Here's a full obituary by William Gray Harris:
Liam O'Gallagher, an avant-garde writer, painter, and multi-media artist, who combined a lifelong pursuit of an integral spiritual philosophy with an exceptional gift for teaching and mentoring, died on December 4 at his home in Santa Barbara, California, of natural causes. He was 90.
Mr. O'Gallagher was associated with some of the twentieth century's most innovative artists and philosophers. In his published works, The Blue Planet Notebooks, Planet Noise, and Fool Consciousness, he dealt with themes related to the evolution and future of human consciousness. He painted in the Abstract Expressionist style, and at the time of his death was working on a series of paintings that he described as expressing, "the surreal aspects of space science." The critic Richard Kostelanetz called him "one of the finest visual poets in America."

Born William Gallagher in Oakland, California, on October 2, 1917, he adopted the more traditional rendering of his name after visiting relatives in Ireland in 1950.

He moved to the Monterey Peninsula in 1945, at a time when the area was known for its resident artists and bohemians. In 1946, he left for Greenwich Village in New York to study painting with the renowned abstract expressionist master Hans Hoffman.

After returning to the West Coast in 1948, he met members of the celebrated Ojai Players, including its director Alan Harkness, when they presented "Macbeth" at the Golden Bough Theatre in Carmel, with Ford Rainey in the title role and Iris Tree as Lady Macbeth. An invitation to paint sets for them at the High Valley Theatre in Ojai led to a position teaching art at what was then known as the Happy Valley School. Founded by the Indian philosopher J. Krishnamurti, and the writer Aldous Huxley, among others, it was a progressive school, and Mr. O'Gallagher's advanced painting and teaching methods fit well into its curriculum and a lifelong association was formed.

In 1954, he commissioned the Japanese American sculptor Isamu Noguchi to design a residence for a site overlooking Point Lobos, in Carmel, California. The house was never built, but a model for it is in the collection of the Oakland Museum. Later that year, Mr. O'Gallagher moved to San Francisco's Chinatown, adjacent to North Beach, where an emerging group of writers and poets were forming an artistic movement that became known as the Beat Generation. The hallmark of the Beats was non-conformity, spontaneous creativity, and the influence of Buddhism; all characteristics of Mr. O'Gallagher's own work, and his top floor studio loft above Grant Avenue became a gathering place for some of the group. His concrete poetry and cut-up writings, which heralded a future of artificial intelligence, space migration, and expanding consciousness, began to appear in publications associated with City Lights Bookstore and the Nova Broadcast Press.

The seeds of the Beat Generation evolved into the Haight-Ashbury hippie psychedelic movement of the 1960's, and Mr. O'Gallagher's work reflected the ethos of that era with various so-called happenings. He collaborated with choreographer Ann Halprin on "Ceremony of Us," a dance encounter between the Studio Watts Dance Group and the San Francisco Dancers' Workshop that had its premiere at the opening of the Mark Taper Forum in Los Angeles in 1969. That year, too, KQED-TV broadcast his "Return Trip," an ecological performance piece in which moon rocks were returned to the moon, accompanied by electronic music, and litter that had been left by the NASA crew was collected. The piece was sponsored by the Dilexi Gallery. In 1970, KPFA radio broadcast "Border Dissolve in Audiospace," a taped performance game involving telephone operators on various sides of state and national borders. Another work, "People's Opera," was scored for nine transistor radios, one telephone system, and soloists on tambourine, flute, oboe and French horn, and was broadcast on KQED-FM, also in 1970. In 1972, a compilation of his writing, visual poetry and performance scores of the previous decade was published, entitled The Blue Planet Notebooks.

From meetings with Robert Theobald, the futurist, Mr. O'Gallagher formed a partnership with Germaine Duncan to start a retreat center in the mountains outside of Helena, Montana, in 1972. Taking the name Feathered Pipe Ranch, it continues to this day. He returned to Ojai Valley in 1973, and converted the High Valley Theatre into a unique residence. He served as an advisor to the Happy Valley Foundation, and in 1976 was instrumental in founding the West Coast branch of the Human Dimensions Institute, now known as the Ojai Foundation at Happy Valley.
In 1983 he moved to San Francisco's Telegraph Hill, but ultimately settled in Santa Barbara, where he continued to write and paint. In recent years, exhibitions of his paintings were held at the Helen Pollack Gallery in Santa Barbara and at the Beatrice Wood Center for the Arts in Ojai, the former home of one of his closest friends.

Mr. O'Gallagher is survived by his companion of 58 years, Robert S. Rheem, of Santa Barbara; a brother, Ted Gallagher of Walnut Creek; and numerous nieces and nephews.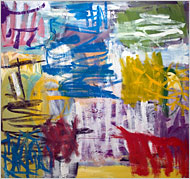 Postscript: Jan. 5, 2008 — Today The New York Times published an excellent obituary by Randy Kennedy. It noted that Liam's death "was not widely reported at the time," which is correct. I've added the NYT obit (above), scanned from today's print edition. If you click on it, you'll be taken to the obit at the NYT Web site. You can read it there. It also has the added virtue of a color illustration of Liam's 1960 "Chinatown" painting, which appeared in the print edition in black and white. Awww, what the hell, here's "Chinatown" in color. It's too good not to see pronto. Besides, when the NYT obit eventually goes into the Times' Web archive, the illustration will be dropped.