His latest moniker on the front page of The New York Times print edition did not make the paper's Web site, except here, where the text type is so small it's unreadable. So I offer it now as a public service: "American President, Albanian Idol." It's the caption head on the photo — above the fold, no less.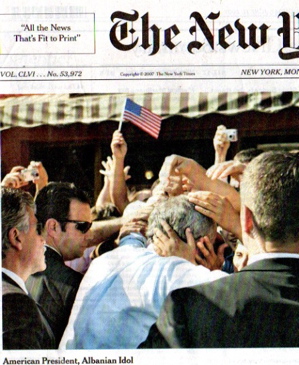 Did the news editors of The Times believe the implied satirical content needed to be eliminated for the Web? I didn't ask. Maybe the newly installed public editor will.
But at least the following exchange in the story itself — a great snapshot by Sheryl Gay Stolberg — was allowed to stand:
On Saturday in Rome, the president agreed that there should be a deadline to end the United Nations talks [about independence for Kosovo], saying: "In terms of a deadline, there needs to be one. It needs to happen."
But on Sunday, Mr. Bush tried to backtrack when asked when that deadline might be. "First of all, I don't think I called for a deadline," Mr. Bush said, during a press appearance with [Albanian Prime Minister] Berisha in the courtyard of a government ministry building. He was reminded that he had.
"I did?" he asked, sounding surprised. "What exactly did I say? I said deadline? O.K., yes, then I meant what I said." The reporters laughed.
He's so laughable it tempts me to change my term for him from the President With His Head Up His Ass to, yes, the BananaRepublic's "Albanian Idol."
Postscript: A friend writes: "For folks w/ a long history of being fucked over, wot a superb cherce!"
PPS: Stolberg is on the case again today (Tuesday, June 12). She quotes another of the idol's brilliant remarks: "We're proud to stand with you in NATO," he told Bulgaria's president. "These are big achievements for this country, and the people of Bulgaria ought to be proud of the achievements that they have achieved."