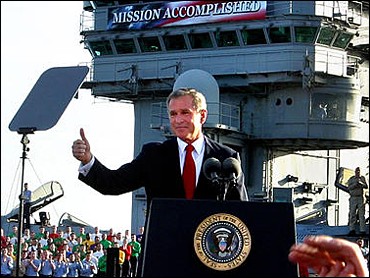 Nobody mentioned "Mission Accomplished" — Tuesday is the fourth anniversary of that infamous photo op — but when Chris Hedges called for the impeachment of the President With His Head Up His Ass during a panel on the Iraq war at the Los Angeles Times Festival of Books on Sunday, he got a standing ovation.
Hedges read a short speech, "No One Should Be Above the Law," which he'd given earlier last week in Washington at a large gathering of activists, politicians and others to launch an impeachment initiative.
The speech began by pointing out that Prez Huha "has shredded, violated or absented America from its obligations under international law. … Most egregiously, he launched an illegal war in Iraq based on fabricated evidence we now know had been discredited even before it was made public."
This president is guilty, in short, of what in legal circles is known as the "crime of aggression." And if we as citizens do not hold him accountable for these crimes, if we do not begin the process of impeachment, we will be complicit in the codification of a new world order, one that will have terrifying consequences.
As noted last week, Dennis the Menace has already introduced a bill to impeach Prez Huha's Attack Dog. The Democratic leaders in the Congress have said that bill is going nowhere, however, and I don't think Hedges expects the impeachment initiative against Huha himself to go anywhere either. What it will do, he hopes, is show the world that not all Americans are complicit in the BananaRepublic's war crimes.