It was unanimous. When asked for a show of hands not one went up to support impeachment proceedings against Prez Huha's Attack Dog. Thus did last night's lineup of Democratic presidential candidates distinguish itself.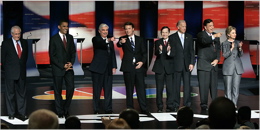 Make that unanimous minus one. Rep. Dennis J. Kucinich, who introduced the impeachment bill — House Resolution 333 — was apparently too modest to raise his own hand.


Here he is in a video interview about HR 333 earlier this week, as posted on YouTube. And here's a synopsis of the three articles of impeachment with supporting documents.
Missing from the documents is "Buying the War," the debut program of Bill Moyers Journal on PBS. If you didn't catch it Wednesday night on the tube, you can watch it online. The program doesn't just indict the press, as advertised, for its contemptible submissiveness in the run-up to the Iraq war. It indicts all the president's men for a crime as serious, according to my Staff of Thousands, as Watergate and Iran-Contra combined.
Postscript: Essential reading from Greg Palast.