Text, subtext and context, David Ehrenstein's op-ed in today's Los Angeles Times is cultural critiquing at its finest — the best I've read to date about Barack Obama. It begins: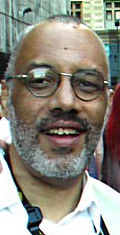 As every carbon-based life form on this planet surely knows, Barack Obama, the junior Democratic senator from Illinois, is running for president. … But it's clear that Obama also is running for an equally important unelected office, in the province of the popular imagination — the "Magic Negro."
And it ends:
Like a comic-book superhero, Obama is there to help, out of the sheer goodness of a heart we need not know or understand. For as with all Magic Negroes, the less real he seems, the more desirable he becomes. If he were real, white America couldn't project all its fantasies of curative black benevolence on him.
In between, Ehrenstein provides substantial insight based on evidence drawn from Hollywood trivia that few cultural critics have the expertise to marshall and fewer still would know how to apply to matters of race and politics.