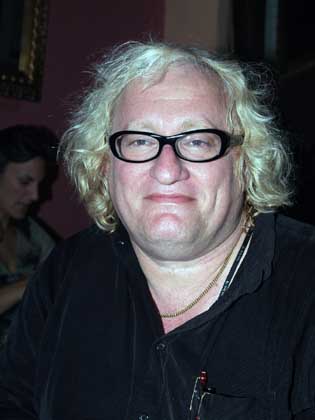 The government of Poland objects to "Last Jew in Europe," a play by Tuvia Tenenbom that documents and then satirizes the anti-Semitism still visibly thriving in Lodz, the country's second-largest city, a half-century after the Holocaust. Staged with the simplified power of a cartoon, "Last Jew" puts Polish anti-Semites on trial by ridicule. No wonder the government protests.
Self-hating Jews are not spared, either. And Mormons are also likely to be upset when they get wind of the show, which opened Sunday at The Triad Theater in Manhattan. A young Utah missionary from The Church of Jesus Christ of Latter-Day Saints is a central figure in the action. He arrives in Lodz seeking the names of Jews buried in the local cemetery so he can have them baptized — retroactively. ("Why is he interested in dead Jews?" "I heard they have a law in America to recycle everything.")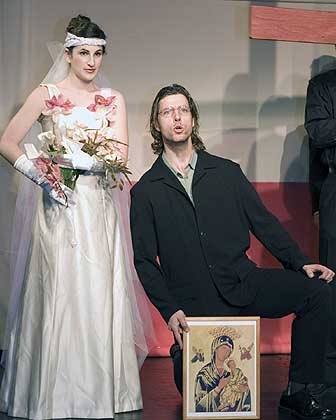 The plot revolves around the wedding plans of a butcher's daughter and a morgue pathologist's son. She's a hot young thing who drinks like a sailor and moves like a go-go dancer. Her father is a pastor in the Crucified Church of Christ in Christ. Her fiancé is a Jew, or so he thinks. And of course he's a klutz. The Mormon interloper complicates the couple's plans. Like it or not, "Last Jew in Europe" is the theatrical equivalent of a graphic novel. (More sample dialogue: "Americans know everything. They have good satellites.")
Tenenbom's outrageously comical take on anti-Semitism and Jewish self-hatred is a long way from the somber vision of Art Spiegelman's in "Maus," for instance. But Tenenbom, the provocateur, is no less serious in his grim estimate of human nature. He says he based the play partly on "a real story," partly on his own travels in Poland, and partly on the "rampant" anti-Semitic graffiti he saw everywhere in Lodz.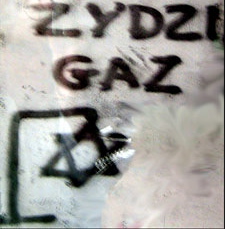 Fire did not engulf the stage, as promised in a press release, and the spectacle of crosses with "crucified young females nailed onto them" also failed to materialize. But they weren't needed. As performed by an enthusiastic troupe, "Last Jew" easily made its point without having to go any further over the top.
Produced by The Jewish Theater of New York in association with Peter Martin. Directed by Tuvia Tenenbom and Andreas Robertz. With Bill Barnett (Papa Jocka), Lila Donnolo (Maria), Michal Gregorewski (Dr. Kweczke), Caba S. Lucas (Józef), Aleksandra Popov (Zbrodzka) and Daniel Shafer (John Jay Smith). At The Triad Theater, 158 W. 72nd St., NYC (btwn. Amsterdam & Columbus Aves.) Performances: Sun. (3:00 p.m.); Mon. and Tues. ( 7:00 p.m.) No show on March 12. Open-ended run. Tickets: $55. Available online or by phone: (212) 352-3101.