So much happens when Straight Up's staff of thousands leaves town. Here's something else that happened. We regret not being there. It isn't everyday that Robert Fisk picks up a Freedom Prize worth $350,000.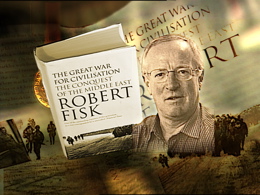 But we caught up with him by proxy on Democracy Now! Amy Goodman asked him in an interview to explain why he considered the prize as "important as a flak jacket." She said that's what he'd told the crowd at Town Hall in Manhattan, where the award ceremony was held Saturday.
Fisk, if you don't already know, is the veteran Middle East correspondent for The Independent of London, and the author of several books, including "The Great War for Civilisation" (see Postscript, below*) and "Pity the Nation."
He had much to say worth hearing, as usual. Speaking of Iraq and Afghanistan, for instance, he noted:
[T]his is the first war I've ever covered in which the leadership in the West bases its policies on its own lies. I mean, it's one thing to lie to the people, and then you have your own policy of how to pursue a war, but to pursue the war on the basis of the lies you're telling the people, this is an entirely new concept in war and strategy in foreign policy. I've never seen it before.
Goodman's interview aired on Monday, the same day that USA Today's top front-page story was headlined "Iraq ousts 10,000 in security ministry." Coincidentally, a manufacturer of armor-plating for U.S. military vehicles in Iraq pointed out the headline to me. He believed the news was a good sign perhaps of better things to come. Anybody who has read Fisk would understand why it isn't. Here's one of the things he said to Goodman:
[W]ho is funding the interior ministry militiamen who are murdering people? The interior ministry is funded by us. We use local gunmen and murderers to do our job for us and save our soldiers' lives, not very successfully, but that's what we do. And, of course, we'll do the same if necessary in Lebanon with all these unsavory groups, all of whom have got blood on their hands. I mean, there's one Lebanese politician — he's a friend of mine, I know him very well — who ran a militia during the civil war, which brutally tortured its opponents, committed war crimes, and he met Condoleezza Rice a few days ago. I mean, you know, we will make friends with those who want to help us and whom we think are worthy of our support on the short term. And if — I mean, who did bin Laden used to work for when he was fighting the Russians? Us, you know? I mean, we use these unsavory — who was Saddam working for for most of his rule? Us. Who gave him the gas? The components came from the United States.
None of that is secret. We've been going on here for months about death squads doing America's dirty work as the "Salvador option" in Iraq. Shit, years even. Most recently last December (see Loud Whispers). Fat lot of good it does.
*Postscript: March 9 — "The Great War for Civilisation" has been short-listed for the Arthur Ross Book Award by the Council on Foreign Relations, along with five other books, including Thomas Ricks' "Fiasco" and Lawrence Wright's "The Looming Tower." The award honors "the best book published in the last two years on international affairs."
(This ought to embarrass the editors of The New York Times Book Review, especially if Fisk wins the $25,000 first prize. In 2005, when Fisk's book was published, The Times failed to include it among the 100 Notable Books of the Year.)