Five little words of wisdom. Robert Altman's words. Words cited earlier this week in a tribute to the late director at the Majestic Theatre in New York. Smarter words than the old Hollywood cliché cut to the chase, which of course is what he meant. Fitting, too, given the paradox of a filmmaker who loved words, especially words that overlapped.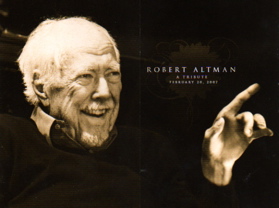 It wasn't only Altman's words that dazzled the crowd at the tribute, which ran uninterrupted for more than two riveting hours.
"I do not think he was a lover of truth as much as he was a hater of lies," Robert Reed Altman, one of his sons, told us. "He did not like conformity," Bob Balaban remarked, adding, "This is an understatement. Bob never met a status quo he didn't hate."
The wire reports I read — AP's in USA Today and Reuters' in the NY Times — give a pretty good account of what was said, including Balaban's remark and others I took down in my notes. (Tim Robbins: "He would not only not suffer fools, he'd make fools suffer." Garry Trudeau: "I just talked about my old friend for several minutes without interruption, with no overlapping dialogue, without him being able to change a word. He would have hated it.")
But the funniest words of the afternoon — Julieanne Moore's — went unreported. Moore recounted the thrill she felt when she was cast in "Short Cuts" early in her career. Altman warned her to read the script before accepting, she said. The role he was offering called for frontal nudity, and it was "not negotiable." She said she didn't need to read the script. Plus, she added, "I've got a bonus for you: I really am a redhead."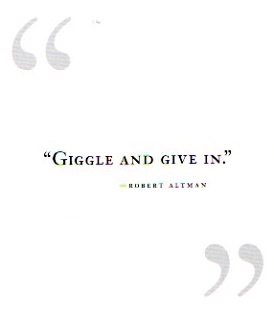 That is how Altman always told the tale of "my bush," she said. But he told it so many times to so many interviewers that she became sensitive about it and asked him to stop. Besides, she didn't remember making that comment — not exactly, anyway. Of course he would stop, he told her. He was a gentleman, after all.
Then one evening over dinner at one of his typically convivial gatherings with lots of friends, including Moore, Altman's wife Kathryn began to tell the tale of the bonus. Altman looked up, and true to his gentleman's word, politely shushed her, putting his fingers to his lips. "Julieanne," he said, "doesn't want us to talk about her pussy."