Are you ready for three nights of "Shoah and Pin-Ups," a documentary about the NO!-artist Boris Lurie? I am.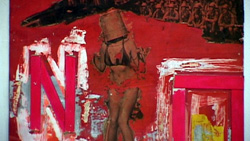 Screenings begin this evening in Manhattan. The first one, at Hunter College, is free (followed by a Q&A with the filmmakers). The second screening, on Thursday, is at Makor ($15); the third, on Friday, is at Anthology Film Archives ($8).
"Most of the film's protagonists will be at the AFA screening," Matthias Reichelt, the curator and art historian who collaborated on the film with the director Reinhild Dettmer-Finke, tells me. Appearing at the AFA "makes sense," he adds. "It's a substantial downtown art institution that's well known, and it's linked through the great Fluxus artist Jonas Mekas to the good old days of the '50s and '60s" — when Lurie and his fellow NO!-Artists flourished. Did I say flourished? In fact, it is precisely the opposite of what happened.
Unfortunately, Boris Lurie, who's in his 80s and lives in New York, will not be able to make the screenings. "For understandable reasons," Reichelt says. After recovering from heart surgery, "he had two strokes and has been in hospital for more than one year now."

Here's the screening schedule:
HUNTER COLLEGE (Free admission)

Wednesday (2/21) 7:30 p.m.
A presentatioin of the Visual Culture Roundtable
Screening followed by Q+A with the filmmakers
695 Park Avenue at 68th Street
Room 1527 Hunter North Building

MAKOR ($15)
Thursday (2/22) 7:30 p.m.
At Makor/Steinhardt Center
35 W. 67th St.
NY, NY, 10023
T: 212-413-8821
F: 212-413-8860
ANTHOLOGY FILM ARCHIVES ($8)
Friday (2/23) 7:30 p.m.
Special Screening
32 Second Ave. at 2nd St.
F or V train to Second Ave; 6 to Bleecker.