That's the title of a new documentary about Boris Lurie, the 80-year-old New York NO! Artist, whose work breaks taboos by combining gassed corpses and nudie pictures, Holocaust realities and sado-masochistic fantasies. "It's not perverted art, but a comment on a perverted society," says Lurie, a survivor of Buchenwald-Magdeburg and other concentration camps, who, not incidentally, draws a line from the Shoah to the war in Iraq.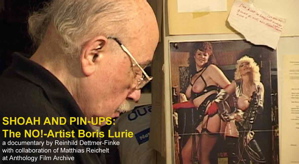 "Lurie would like to have painted comfortable, comforting things," says Matthias Reichelt, a curator and art historian who collaborated on the film with the director Reinhild Dettmer-Finke. "But something kept him from doing so. And that something is what this film explores."
"Shoah and Pin-Ups" travels from Riga and Buchenwald to the New York of the 1950s and '60s, when NO! Art developed as an obstinate reaction to Pop Art. "NO! is Boris Lurie's motto," says Reichelt. "NO! to the expectations of the art market, NO! to bourgeois decorum, NO! to victim mentality. The film is about the timeless, timely questions of remembering and about coping, through art, with the extermination of the Jews."
The documentary will have a special screening next month (Feb. 23) at Anthology Film Archives in New York. We'll have more to say later.