For his special comments, Keith Olbermann. Nobody in the media — mainstream or meanstream, high or low — has been more compelling or persuasive in voicing outrage at the arrogance, incompetence and rank stupidity of the Bullshitter-in-Chief and his regime of BananaRepublic cronies.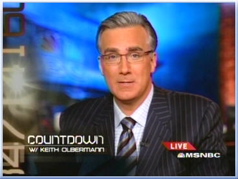 Olbermann's special comments are remarkable not only for their anger but for their boldness and literacy. They're more powerful, hands down (Jon Stewart and Stephen Colbert notwithstanding), than any televised political editorials I know of. (Hell, even my print faves, Paul Krugman and Frank Rich, can't compete with him for charisma.)
If you missed last night's "Countdown" broadcast, a roundup of excerpts, you can have a look at them online one by one. Check them out from top ("Have you no decency, sir?") to bottom ("This hole in the ground"). It's not the same as having them fused together and beamed into your livingroom. Ya hadda be there. But it's a brilliant collection easily worth your time, the more so for offering them whole, and surely deserving of greater recognition than mine.