Finally, an acknowledgment of Sunni genocide as the BananaRepublic's sub rosa policy in Iraq: "The Whispers and the Why Nots." Reported by Helene Cooper, "Whispers"⊗ is the lead story of the Week in Review section in today's New York Times.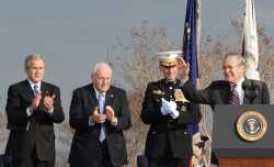 "We shall call it the Darwin Principle," Cooper writes of the policy, also referring to it as "the Shiite option." One unnamed senior regime official is quoted as calling it the "stare into the abyss" strategy.
Although the policy is couched as a "proposal" in an ongoing debate within the Bullshitter-in-Chief's regime, as though it hasn't already been implemented, Cooper's report is explicit about the fact that Sunni genocide has been promoted at the highest Banana Republican level, namely by Darth Cheney's office.
Which confirms the worst suspicions we've had of a U.S. regime secretly bent on mass murder by way of proxies — suspicions I must admit I had recently begun to doubt after reading so many news stories about the U.S. military's desire to root out the Shiite death squads.
⊗ The "Whispers" headline in the NYT print edition has been toned down on the Web site to "The Capital Awaits a Masterstroke on Iraq," a craven minorstroke of what I presume to be second thinking. Maybe the public editor will look into the change and explain it.

Postscript: A reader writes:
The Times article is likely not a report about whispers, but about "staged whispers" that attempt to post-date the decision to allow for genocide through civil war. I suspect this strategy was well-considered from the very beginning. See Robert Parry's article on Truthout. It illustrates that what is happening in Iraq is nothing new and that in fact we are very experienced at this sort of thing.
The Parry article, posted two years ago, discusses the "Salvador option" and notes that the Pentagon was "intensively debating" it as "a new policy" to pacify Iraq, according to a Newsweek report in January of 2005.
We've talked before about the "Salvador option" in Iraq. Here, for example. In any case, use of the so-called "the Shiite option" explains why the Saudis read Darth Cheney the riot act on his visit to Riyadh earlier this month. Given all the "surge" talk we've been hearing, you don't really believe the meeting was about a troop withdrawal, do you?