Throw open the records. Let the sunshine in. Subpoena power to the people. Now that voters have finally said "Fuck You!" to the Bullshitter-in-Chief and his war in Iraq, let the investigations begin. It's way past time to put a full stop to the BananaRepublic.
Postscript: Good riddance to Rummy Boy. That's a start.

But Ralph Nader's assessment — in an interview with Amy Goodman on Democracy Now! — puts a damper on expectations. He's correct, methinks: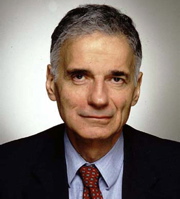 [T]o the extent the Democrats gained the majority in the House, it was on the backs of some very rightwing Democrats who won the election against rightwing Republican incumbents. And so, there was no mandate for any progressive agenda. …
[One] thing that is good, though, is that there's some very good veteran chairmen who are coming in: George Miller, Henry Waxman, Ed Markey and, of course, John Conyers. But to counter that, both John Conyers and Nancy Pelosi have taken the impeachment issue right off the table, before the election, and that means there's going to be no Bush accountability for his war crimes and his inflation of unlawful presidential authority.
… The Democrats will throw a lot of subpoenas at the White House. The White House will, of course, drag it on and on and on. And the public will get fed up with it. The White House has great reserves in dragging it on and on and on. Because Bush can't rely on Republicans as a majority of the Congress, he's going to inflate his presidential power even more extremely and unlawfully, in the opinion of many legal scholars — to do through the inherent power of the presidency, as Dick Cheney and Bush have talked about, what he can't do through the Congress, which he no longer controls.
But notice that, in all the debates I've heard between the Senate candidates and the House candidates over the last few weeks, there was almost no mention of corporate power, the 800-pound gorilla, no mention of corporate crime, no drive for corporate reform. And yet, if you look at the forward issues in the country, who's saying no to healthcare, universal healthcare? Corporate power. Who's saying no to a real crackdown on corporate crime against consumers, especially inner-city consumers? Corporate power. Who's saying no to cleaning up the corrupt tens of billions of dollars in military contracting fraud, like Halliburton? Corporate power. Who's saying no to reform of hundreds of billions of dollars of diversion of your tax dollars, America, to corporate subsidies, handouts and giveaways? Corporate power. And yet, reporters and candidates hardly mentioned it. …
This campaign, this election … was basically a mandate-less election for the Democrats. There was really no mandate other than against Bush and do something about Iraq. Domestically, virtually no mandate about rearranging of power, shifting it from corporations to workers, consumers, taxpayers, to communities.
Aaarggghhhh.