I try never to miss his Sunday sermons. But to "worship at the Church of Frank," as one of my staff of thousands puts it, is a sin I try never to commit too early in the morning. I generally wait until I've had my coffee.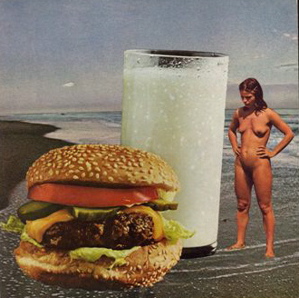 Today, however, was an exception. Frank struck the sleep from my eyes by pointing to "the one truly serious story to come out of the election." Then I had my cup of coffee and read on.
According to Frank, the Bullshitter-in-Chief "has no intention of changing his policy on Iraq or anything else one iota." This, he says, "is far more significant than the Washington chatter about 'divided Democrats.'" Deeper into the sermon, on my second cup, I realized that Frank's theme sounded familiar. (See this and this.)
Churches customarily pass the plate after the service. Frank's does it beforehand. So you can't get his sermons unless you pony up, via subscription.* We're sorry for that, because Frank has a way with words even when he mixes metaphors and turns all red-white-and-blue.
He says the bullshitter "seems more likely … to use American blood and money to double down on his quixotic notion of 'victory' to the end" than "to catch the political lifeline" Jim Baker's Iraq Study Group "might toss him." And, he concludes, "Only if [divided Republicans] heroically come together can the country be saved from a president who, for all his professed pipe dreams about democracy in the Middle East, refuses to surrender to democracy's verdict at home."
It will take a helluva more heroism than that, in our humble opinion. See Norman O. Mustill's collage, above, which hasn't dated "one iota." (It was first published in 1970 as the back cover of his Vietnam War commentary, "Mess Kit." It appeared there in black & white. Here it is for the first time in color, per the original.)
And see these: "Padilla Case Raises Questions About Anti-Terror Tactics"; "Gonzales attacks ruling against domestic spying"; "Plea deals pile up in Iraq murder cases"; "United States Rides Weapons Bonanza Wave," and "Lose a War; Lose an Election."
Postscript: Remember the hot-air speech called "Plan for Victory," a k a Plan for More Bullshit?
Well, a year later, here's what Henry Kissinger, the shameless wise man who's been advising the bullshitter to accept nothing less than victory, just told the BBC:
"If you mean by military victory an Iraqi government that can be established and whose writ runs across the whole country, that gets the civil war under control and sectarian violence under control in a time period the political processes of the democracies will support, I don't believe that is possible."
He even had the chutzpah to talk about "the art of leadership."
*Meantime, a staffer reminds me that Frank's sermon may be read here, no donation required.