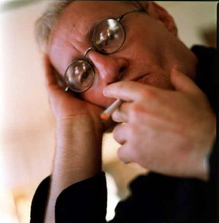 Where to begin? An acquaintance mentioned him. But I don't know anything about Tuvia Tenenbom except what I've read. Never met him. Never saw any of his plays. I'm not much of a theatergoer these days.
After reading his "Letter From Poland" and watching his video posted on YouTube, however, I plan to see "Last Jew in Europe," his latest play, when it opens in New York.
How could I not? Tenenbom, who is the artistic director of the Jewish Theater of New York, apparently has a combination of brains and balls rarely found in the world, let alone in the world of the theater.
(Here's a review of his previous play — billed as a "theatrical journey into the pleasures of chaos" — "The Last Virgin." Love his titles.)


I'll admit when I read that "Last Jew" — billed as a tragicomedy on racism and self-hate — is "the story of love between a young Polish Jew and his Christian fiancée," I thought, Uh-oh. Wait a minute. Here come da schmaltz. But then I read on and was reassured:
Blood and vodka flow on stage, accompanied at times by disco music, as characters move deeper and deeper into their fears, hatred of the foreign, illusions and delusions. Crosses amass on the ground; some portray crucified young females nailed onto them, others young Hasidic males. As time passes, fire engulfs stage, burnt papers fly aimlessly, and images of anti-Semitic graffiti pop in & out of sight, dreamily mingling with the smoke.
Sounds promising. A real spectacular, no? "Last Jew in Europe" is scheduled to open on Feb. 7 at a theater in Manhattan, still to be announced.
Postscript: Word comes that the production is to open on March 4, 2007, at The Triad Theater (158 W. 72nd St., between Amsterdam and Columbus Aves.). Triad tel: 212.362.2590. JTNY tel: 212.494.0050
And just in case you missed the YouTube link: