Today is Nelson Algren's birthday. A writer of genius, he died on May 9, 1981, at the age of 72. The Algren I knew late in his life was brave, big-hearted, and staunch in his beliefs. We had become friends after I interviewed him for a piece that ran in the Sunday magazine of the Chicago Sun-Times. By the time he died I had joined the Sun-Times staff as an arts reporter and critic. This story ran in the paper eight days after his death.
'In' at last: Nelson Algren's final happy days
Multitudes have mounted this midnight stair … all come in search of love with money in their pockets.
–from The Devil's Stocking
SAG HARBOR, N.Y. — Nelson Algren had given up on the literary establishment so long ago — and it so clearly had given up on him — that he was dumbfounded to learn of his election to the American Academy and Institute of Arts and Letters.
"I thought it was something like the Mark Twain Society where you had to pay to get in," he kidded me recently.
His first impulse was to scan the Academy membership list for the name of a well-known critic he loved to hate.
"I figured if he was in, it had to be a fraud," said Algren. "But there were some names I respected. So I asked Gloria Jones (widow of novelist James Jones) what it was and she said, 'Hell, it's like the French Legion of Honor. You're in.'"
For Algren there were few things worse than being "in." Buying your way in was one. Not getting what you deserved for your writing was another. Better to be "out" and to let your work go unpublished. Still, Algren was pleased by the surprise. He had done nothing wrong he could think of that had got him in. More important, it might help him launch his first novel in 25 years, The Devil's Stocking, which had just made the rounds of American publishers and had brought insultingly small offers.

He was to appear in the Academy induction ceremony next Wednesday. "Will you have to wear a tuxedo?" I teased.
"No," he said. "I will be required to wear a leotard and play a flute. They do this every year in a sort of garden."
"You're going to have a hard time getting the leotard over that belly of yours," I said.
He chortled.
When I asked if he would sit for an interview, and put me in touch with the friends he'd made since moving to Sag Harbor a year ago, he went one better.
"I'll make a party," he said.
Piece of cake. Quotes would fly through his house, freshly minted by Kurt Vonnegut and Peter Mathiessen and Irwin Shaw and Betty Friedan. I flew to New York and drove three hours out to Sag Harbor near the tip of Long Island. The party was set for 2 p.m. Algren was expecting me at 1.
I called from a phone booth a few blocks from his small saltbox house. No answer. When Algren threw a party, he usually piled on the chips and Fritos. He was out buying them now, I thought. I bought a bottle of Chivas Regal. Then I called again. Roy Finer answered.
"Don't come," Finer said. "He's gone."
Whenever Algren threw a party, he invited Finer, a New York City homicide detective he affectionately called "The Big Cop."
"I walked in the door less than five minutes ago," said Finer. "He's cold."
Suddenly understanding, I hung up and jumped into the car.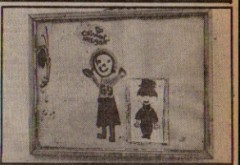 "We won't see Nelson?" asked my six-year-old daughter, Olivia, whom Algren had dubbed "my fiancée" when she began sending him drawings, which he framed for his wall.
Nobody will ever see Nelson Algren again. I felt as if I'd been swept off a cliff. I couldn't believe he was dead. Then I saw for myself. In the bathroom Algren had collapsed of a heart attack. The smashed dial of his wristwatch was stopped at 6:05. When I came out, Finer was slumped on the living room couch. He looked very tired.
"It's over," he said.
The words were an epitaph, simple and terrible and true. Life had gone out of the house. Time might as well have stopped in each room, which brimmed with reminders of Algren's insomniac energy.
Every corner was filled, every wall covered, with mementos he made or gathered: collages of Simone de Beauvoir's letters and book jackets; photos of Algren in Army uniform; pictures of his girl friends, of prizefighters, drawings and art posters; shelves filled with books he wrote, those he read and those he wrote about; the complete works of Dickens and a portrait of Dostoevsky (his two favorite writers); the works of George Orwell; news clippings framed and yellowing with age.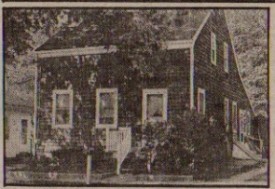 The Sag Harbor police chief, John Harrington, took off his gold-braided cap and stared in awe at the hundreds of books. "I used to know John Steinbeck, who lived around here," he said. "You'd never know the guy could write from talking to him. I never heard of this guy Algren. I saw him around, though, down at the grocery. He was always buying saltines. You work in New York?"
"Yes," said Finer. "Where's the medical examiner? I came from the city to get away from the bodies."
I remembered driving with Algren in Hackensack, N.J., not long after we'd first met in September, 1978. He told me he was fed up with people asking to write his biography. "I've got 10 good years of writing left," he said.
And I'm certain he believed it. He always told me he was "a glorified reporter." He had to observe real life before he could fictionalize. So he was writing in his head, even when he wasn't.
His ex-wife, Betty Algren, an actress living in New York and to whom I had to break the news, remembered he wrote 24 hours a day.
"He had no schedule," she said. "He'd wake up in the middle of the night and go to the typewriter for three minutes, then go back to bed. We had separate bedrooms right from the beginning, which took me by surprise. Of course, I always knew that Nelson valued his independence."
That dovetailed with what Nelson had told me of his work habits. Writing and marriage just couldn't mix, because if a writer is any good, he's always in training. So he preferred the bachelor's life.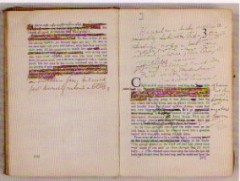 Nevertheless, for years he avoided writing "the big book." He didn't need much money to live, and he'd already had plenty of glory. Why put in the rounds religiously?
But he kept at it anyway, returning to the typewriter as though he were "on a long chain." During the past few years, to fill in the night hours when he couldn't sleep, he wrote a 465-page manuscript called Chinatown. When it was still unfinished, he gave it to me to read. I thought the title a problem and told him so. Where did it come from?
"One morning I woke up, and there it was in the typewriter," he said, scratching his head. "It was the only word on the page. That had to mean something. So I thought I should set the book in Chinatown. Now I've got to find a Chinese prostitute. The book needs a love story to round it out."
New York's Chinatown created problems for him. He couldn't find the right prostitute for a model, and the locale was too unfamiliar to master quickly. So the novel began to shift to Times Square, which he knew better. He began calling it "my Times Square novel," though much of it also takes place in New Jersey, where he had moved from Chicago in 1975 to cover the murder trial of former middleweight boxer Rubin "Hurricane" Carter.
On weekends, Algren would take a cheap hotel room and spend his time roaming 42nd Street looking for a prostitute he could talk to. One thing that complicated his search was New York mayor Ed Koch's bright idea of publicizing a citywide "john list" to discourage prostitution. The mayor guessed that customers would be frightened off by the prospect of having their names broadcast on the air.
Outraged by this cynical exploitation of middle-class fears, Algren volunteered to head the list. He dashed off letters to the mayor, the newspapers and radio stations. No answer.
Worse, the "john list" forced his Japanese girlfriend, a prostitute he saw regularly in Manhattan, to leave the city because of increased raids and lack of customers. Algren never forgave the mayor for that.
In the end, Algren succeeded in his search. He found "a brown-skin girl" who worked in a cheap midtown whorehouse and talked to her at length for the going rate. She became Dovie-Jean Dawkins, who "had a broad face with high cheekbones, which lent her an Oriental aspect. She looked to be 18 at most." In fact, the novel took its final title from her phrase for her boyfriend. "You're like the devil's stocking, Tiger," she tells him. "You're knitted backwards."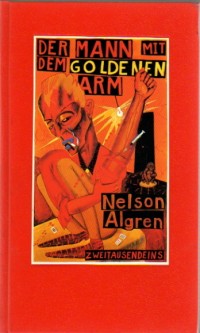 I liked the book so much that I got in touch with my friend Carl Weissner, a leading German translator who specialized in non-mainstream American literature. In no time Weissner interested a West German publisher in bringing out this fall not only The Devil's Stocking [it was published in Germany with the title Calhoun], but in following up with a complete retrospective of Algren's works in new translations.
"Why did we ever go to war with the Krauts?" Algren would joke after hearing from Weissner, whose good news buoyed him as nothing else had in months. He hoped the German interest would rekindle sales of his Italian editions, which paid small but steady royalties.
As for his own countrymen, Algren said: "The Americans will have to pay a hundred thousand, or they won't get it."
This was not just sheer bravado, though Algren had his fair share of that. He wanted the money to buy a house on the beach. He was tired of tramping around with cardboard boxes of books and pictures. In Hackensack, neighbors once called the police to have him clear his porch of what they called "an unsightly mess."
Later in Southampton, a posh resort near Sag Harbor, he unwisely chose a place so small and dainty that when he tried to move his boxes in it gave his landlady fits. She had him evicted in a week.
I wired him $500 so he could rent an attic in Sag Harbor while he dickered with his landlady, her real estate agent and their banker over the security deposit. It was a point of pride with Algren that he repaid his loans in full, and quickly [when he had the money]. Often he would spend $25 on a meal for you without blinking an eye, though he'd go home with $2 in his pocket.
The first place he moved to in Sag Harbor also would not hold all of his belongings. He had to leave them in storage. When he finally moved last September to his place on Glover Street, he unpacked at last and settled in like a squire on his estate. He loved the place, and it loved him back.
And for the first time in years he acquired a social life among literary friends, among them Gloria Jones, Peter Matthiessen, Kurt Vonnegut, Joe Pintauro, William Gaddis, Betty Friedan, Robert Parrish and Irwin Shaw.
He was happier in Sag Harbor, where he now lies buried in a whaler's grave, than he probably had been for a decade. Maybe Shaw, on learning of Algren's death, said it best: "It's not so bad. He'd just won a big award and he was about to mix drinks at a party. Now he won't have to wash the glasses."
Algren would have been tickled.