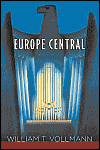 One story you won't find in William T. Vollmann's mammoth series of stories "Europe Central" — the surprise winner of the National Book Award for fiction, which examines the moral decisions of real World War II Germans and others — is the story of Johann Georg Elser.
So here's a WWII tale to remember. Most people have never heard of Elser, although he nearly changed the course of history 66 years ago this month — on Nov. 8, 1939, to be precise — when he tried to assassinate Hitler by planting a bomb in the Munich beer hall where the Führer showed up every year to celebrate his failed 1923 putsch.
Who was Elser? A carpenter from Swabia, born in 1903. According to Der Spiegel:

Elser was no thug and no hard-nosed ideologue. Rather, he was a highly talented musician and a ladies' man. He was also a man who preferred action to words — he became a member of the Woodworkers' Union for the simple reason that, "one ought to be a member of this union." Whenever the Führer's speeches were broadcast on the radio, he would leave the building and he likewise refused to greet fellow Germans with the words "Heil Hitler!"
Because of unexpected weather — a heavy fog settled on Munich that evening — Hitler began his speech at the beer hall 30 minutes earlier than planned, so he could make the night train to Berlin. As Der Spiegel tells it, this saved his life. Elser's bomb, "hidden in a column directly behind where Hitler had been speaking," detonated 13 minutes after Hitler's departure. The explosion was so powerful it caused the roof to collapse, killing eight people and wounding 60 others. "When the bomb went off, Hitler was already sitting in a heated limousine, on his way to the train station."

Elser was captured the same night at the German-Swiss border. After confessing, he was brought to Gestapo headquarters in Berlin and tortured. He claimed to have acted alone. But Heinrich Himmler, the Gestapo chief, refused to believe him. He wanted to tie the bombing to British intelligence agents who had been arrested, coincidentally. The Nazis intended to use Elser "as a witness against Churchill after their planned final victory over England," which Hitler was already eyeing for invasion, Claus Christian Malzahn writes — so they kept him alive.
On April 9, 1945, Elser was murdered in the Dachau concentration camp.
A small memorial to Elser was erected in 1971– "in the face of opposition from the local residents" — in the town of Schnaitheim, not far from Heidenheim, where he had lived and worked for several years, according to an abstruse philosophical analysis of the assassination attempt for Konstanz and Tel-Aviv Universities. (The opposition apparently has had a long life. On Dec. 16, 2000, vandals poured red paint on the monument.)

But for nearly a half-century after the war nothing commemorated Elser at the site of the destroyed beer hall, where Munich's concert hall, the Gasteig Concert Center, now stands — not even a small plaque to remind concertgoers of what happened there or of Elser's fraught moral decision to risk his own life and possibly save the world, not just Germany, from Hitler.
There is, according to the Bavarian Web site CollegeRadio, a memorial plaque now, above, embedded in a sidewalk near the concert hall in a location so obscure only the "initiated" will be able to find it. Ah well … Munich has named a square for him, GeorgElser-Platz.

And let's not forget the Johann Georg Elser postage stamp, which Germany issued in 2003 in its long-established series of stamps commemorating German resistance to the Nazis. Let's also not forget: There's a monument to the resistance fighters in front of the State Capitol in Munich, left, but Elser's name is not included on it. In 1999, though, protesters decided to change that. They spray-painted his name so it couldn't be missed.