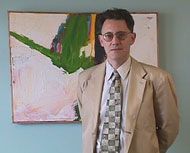 Carl Conetta lays it out in "Vicious Circle," his research monograph on "The Dynamics
of Occupation and Resistance in Iraq, Part One, Patterns of Popular Discontent" for the Project
on Defense Alternatives. In clear language, the academic sound of the title notwithstanding,
Conetta offers the strongest, most detailed and comprehrensive, fully documented understanding
of the situation that I've come across.
His analysis is large as well as granular. It is replete with both historical perspective and
polling data. It describes patterns of coalition military activity such as house raids and street
patrols, their impact on the Iraqi population, their efficacy in quelling the insurgency. It begins by
pointing out, not surprisingly, that "the occupation of Iraq is today less about rolling back Iraqi
military power, dislodging a tyrant, or building a stable democracy than it is about fighting an
insurgency — an insurgency that is now driven substantially by the occupation, its practices, and
policies." The vicious circle consists of this: "[A]ctions to curtail the insurgency feed the
insurgency."
Conetta, above, the co-director of the project, explains why the U.S. regime's do-good
pronouncements on Iraqi freedom and liberation — which Americans seem to have accepted as
true, despite their own growing skepticism about the war — have far less impact in the war theater
than was foolishly expected by the neocon instigators of the invasion. "Public discontent is the
water in which the insurgents swim," he writes. "Polls show that a large majority of Iraqis have
little faith in coalition troops and view them as occupiers, not liberators." Historically,



[a]lthough the power of nationalistic feelings is universally recognized, occupiers often resist
the conclusion that their behavior is implicated by these feelings — especially if the ostensible
goals of occupation are humanitarian or paternalistic.





Even Napoleon Bonaparte expected during his 1799 campaign in Egypt and Syria that his
army would "increase with the discontented" and "armed masses" of the region because, in accord
with the principles of the French revolution, he sought "the abolition of slavery and of the
tyrannical government of the pashas". As it turned out, the oppressed masses did not flock to
Napoleon's standard. Eight years later he was similarly disappointed in Spain. He entered the
country proclaiming that "With my banner bearing the words 'Liberty and Emancipation from
Superstition, I shall be regarded as the liberator of Spain." Instead, the Spanish resistance tied
down hundreds of thousands of French troops for 5 years, sapping the empire and exposing it to
easy attack by the British. (Not incidentally, the Spanish war popularized the term guerilla or
"small war" among the British.) It mattered not one wit that the French political and economic
system were in many ways preferable to both that of the Ottomans and that of the Spanish. What
decided the popular response to Napoleon was his means of engagement: war, conquest, and
occupation.
The section on "house raids" and "street patrols" specifies what has gone wrong with the
occupation. And all of it, ironically, has been published in the mainstream American or British
press, albeit not as widely publicized as it should have been. Here, for example, is Conetta
on
House raids



Most of the house raids turn up nothing — 70 percent according to one officer — and most of
those detained are soon released. Division and brigade units may hold as many as 1,300 detainees
at any one time, releasing between 66 percent and 75 percent within a few days. Others are sent
to one of several prisons in Iraq controlled by the United States, which hold approximately 9,000
prisoners. Many of these central detainees are also released after six months. The International
Committee of the Red Cross reports being told by military intelligence officers that between 70
percent and 90 percent of these were being held by mistake — an estimate affirmed independently
by some who have worked in the system.




In some cases, the scope of the raids has been made intentionally broad so as to affect the
wider family, friendship networks, and neighborhoods of suspected insurgents and other wanted
individuals. In other cases, entire villages have been sealed off so that residents must enter or
leave only through control points. (Some of these practices were already underway during the
second-half of 2003 — long before the insurgency reached its peak levels and long before the
devastating fall 2004 attack on Falluja.)




Productive or not, the raids are traumatic events, often mentioned as a motivating factor by
those who oppose the US occupation. Anthony Loyd of the London Times reports on several
raids conducted in December 2004 in Zangora, a small town near Ramadi. The American troops,
after using a shotgun to blast open the door of the target residence,




[S]warmed through the compound, corralling the women and children into one room and
the men — by then cuffed and blindfolded — into another as the search for munitions and
documents began. Household goods were sent clattering to the floor, mattresses and bedding
upturned, the contents of cupboards and drawers spilt on to a growing pile of personal effects and
domestic items.





But as the soldiers began questioning the blindfolded Iraqis they realized they were in the
wrong house. The next target of the night's raids was also mistaken.




Along similar lines, Bill Johnson, an embedded reporter for the RockyMountain News,
recounts one of a series of raids that took place in Samarra in December 2003:




The force of the two pounds of C-4 explosive … collapses the double aluminum doors
leading into the courtyard of a house…. An elderly man and two others are left standing exposed
in the courtyard. They fall face-first to the ground as a half-dozen M-16s are swung their way.
Only their mouths move as they plead in Arabic for the soldiers not to shoot. … The men of 2nd
Platoon race past the burning car, kick open the door of the house and rush inside. Three men lay
face down in the front room, adorned only with rugs and pillows. Against a wall, three women
and three young children sob uncontrollably. … [T]he house is thoroughly searched for weapons.
None are found. The men are bound with plastic handcuffs and led to a Bradley. … Prisoners
taken earlier have identified the three as major weapons dealers in the city. … They face days of
custody and rigorous interrogation. Lt. Dave Nelson has spent the last few minutes distributing
money that command has given him to compensate neighbors whose homes have been damaged
by the blasts. The raids have netted more than a half-dozen men, but few weapons. "That ain't the
point," a burly sergeant … says, as we speed away. "We're showing the bad guys we're here, we
ain't playing and we damn sure ain't going away."





These third-party eyewitness accounts accord with many of the stories told by Iraqis. Ken
Dilanian and Drew Brown, reporters for the Knight Ridder news service, recount the experience
of Dr. Talib Abdul Jabar Al Sayeed, whose Baghdad home was raided on 31 July 2003:




At least three dozen American soldiers blazed away for more than 60 minutes in the early
morning hours of July 31, the British-trained physician recounted recently, pointing to the
hundreds of bullet holes that still mark his stately home. "I shouted at them with all my strength to
stop shooting," said Al Sayeed, 62. "I will open the door. Please give me a chance." Eventually,
Al Sayeed said, the commanding officer told him he was sorry: They had raided the wrong house.
But not before a soldier burst in and struck Al Sayeed with a rifle butt, knocking him down. The
soldier kicked him in the ribs – an X-ray later showed they were cracked – and others bound his
hands with plastic cuffs as his wife and young nieces cowered in the next room. They also took
his three grown sons in for questioning, and they remain in a military jail in the south of
Iraq.





Peter Beaumont of the UK Observer offers this report of a 6 September 2003 raid on an
apartment complex in Mahmudiya, near Baghdad, during which 18-year-old Farah Fadhil was
killed by a hand grenade:




Whatever happened here was one-sided, a wall of fire unleashed at a building packed with
sleeping families. Further examination shows powder burns where door locks had been shot off
and splintered wood where the doors had been kicked in. All the evidence was that this was a raid
that…went horribly wrong. This is what the residents and local police told us had happened:
Inside the apartment with Farah were her mother and a brother, Haroon, 13. As the soldiers
started smashing doors, they began to kick in Farah's door with no warning. Panicking, and
thinking that thieves were breaking into the apartment, Haroon grabbed a gun owned by his father
and fired some shots to scare them off. The soldiers outside responded by shooting up the
building and throwing grenades into Farah's apartment.





The raids seem to exhibit a general pattern which was summarized in a February 2004 report
by the International Committee of the Red Cross, based on its own investigation of reported
incidents:




Arresting authorities entered houses usually after dark, breaking down doors, waking up
residents roughly, yelling orders, forcing family members into one room under military guard
while searching the rest of the house and further breaking doors, cabinets, and other property.
They arrested suspects, tying their hands in the back with flexicuffs, hooding them, and taking
them away. Sometimes they arrested all adult males in the house, including elderly, handicapped,
or sick people. Treatment often included pushing people around, insulting, taking aim with rifles,
punching and kicking, and striking with rifles. Individuals were often led away in whatever they
happened to be wearing at the time of arrest — sometimes pyjamas or underwear… In many cases
personal belongings were seized during the arrest with no receipt given…. In almost all incidents
documented by the ICRC, arresting authorities provided no information about who they were,
where their base was located, nor did they explain the cause of arrest. Similarly, they rarely
informed the arrestee or his family where he was being taken or for how long, resulting in the
defacto disappearance of the arrestee for weeks or even months until contact was finally
made.





US units often render some payment to families for collateral damage. It is also common to
confiscate "excessive" family money, gold, or other valuables, however — even in those cases
where neither suspects nor banned types or quantities of weapons are found. This, on the theory
that the information targeting a family may be at least partially correct and that the family may be
financing insurgent activities. Of course, it is hard to ascertain what constitutes "excessive"
household valuables in a country with a cash economy but no functioning banking system.
Throughout the period of sanctions, war, and occupation, it has been common for Iraqis to invest
in gold jewelry as a form of inflation-proof savings. At any rate, the confiscations have generated
hundreds of tort claims and add to the Iraqis' sense that the occupying troops are behaving in
indefensible ways.
As a Straight Up regular says, "the Americans are quite literally behaving like Nazis." Sadly,
he's right. Is there any other way to put it? Meantime, the leaders of the U.S. regime have not
been held accountable. Cheney Boy has the unmitigated gall to say he's
offended by Amnesty International's comparison of the detention center at
Guantanamo to a gulag-style camp, while Dear Leader calls Amnesty's allegations "absurd." What's absurd is
that anyone would believe him.