One day historians will ask how we stood by and let this happen: "He had been chained by
the wrists to the top of his cell for much of the previous four days. … [H]is legs, which had been
pummeled by guards for several days, could no longer bend. … When he was finally sent back to
his cell … the guards were instructed only to chain the prisoner back to the ceiling. 'Leave him up,'
one of the [interrogators said]." See sketch by a former U.S. military policeman.
"[A] final horrific detail: Most of the interrogators had believed [he] was an innocent man …"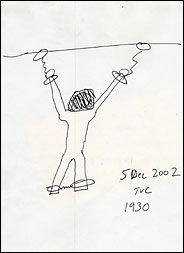 Read much more about the death and torture of Afghan prisoners by
U.S. soldiers in the euphemistically named Bagram Collection Point. This morning's New York
Times has a two-page spread, written by Tim Golden, based on an Army investigation detailed in
a secret "Bagram file," a copy of which was obtained "from a person who was critical of the
methods used at Bagram and the military's response to the deaths" that resulted from those
methods.
Because Golden's report will soon disappear into an archive on the Times Web site, available
only by paying for it, my staff of thousands insists on posting excerpts for the record, showing
that torture was not the exception but the rule, that what has happened under Dear Leader's
regime — with the approval of the American electorate last November — may be justifiably
described as a systemic violation of human rights and a corruption of democratic principles due to
an utter lack of accountability at the top of the regime.
For instance:


"[T]he Bagram file includes ample testimony that harsh treatment by some interrogators was
routine, and that guards could strike shackled detainees with virtual impunity."

"Senior officers frequently toured the detention center, and several of them acknowledged
seeing prisoners chained up for punishment or to deprive them of sleep."

"[M]any of the Bagram interrogators … were redeployed to Iraq and in July 2003 took
charge of interrogations at the Abu Ghraib prison. According to a high-level Army inquiry last
year, [the same officer in charge] applied techniques there that were 'remarkably similar' to those
used at Bagram."

"[A] standard procedure" of confinement in "9-foot by 7-foot isolation cells," one military
police commander said, included "a policy that detainees were hooded, shackled and isolated for
at least the first 24 hours, sometimes 72 hours of captivity."

"Last October, the Army's Criminal Investigation Command concluded that there was
probable cause to charge 27 officers and enlisted personnel with criminal offenses in [one] case
ranging from dereliction of duty to maiming and involuntary manslaughter. Fifteen of the same
soldiers were also cited for probable criminal responsibility in [another] case. So far, only the
seven soldiers have been charged, including four last week. No one has been convicted in either
death."

"[D]ocuments and interviews reveal a striking disparity between the findings of Army
investigators and what military officials said in the aftermath of the deaths. Military spokesmen
maintained that both men had died of natural causes, even after military coroners had ruled the
deaths homicides."
Golden's report hammers home the details of systemic torture, describing such methods as
routine sleep deprivation that kept prisoners awake for 32 to 36 hours at a time and "'Fear Up
Harsh,' or what one soldier referred to as 'the screaming technique.'" One interrogator, nicknamed
"Monster" and "the King of Torture," would intimidate new prisoners "as they stood chained to
an overhead pole or lay face down on the floor. … A military police K-9 unit often brought
growling dogs to walk among the new prisoners."
A particularly nasty platoon of guards,
nicknamed "the Testosterone Gang," enjoyed listening to one detainee "scream out, 'Allah! Allah!
Allah!" when struck by a blow just above the knee designed to cause excruciating pain.
"Everybody heard him cry out and thought it was funny," a soldier told investigators. "It became a
kind of running joke, and people kept showing up to give this detainee a common peroneal strike
just to hear him scream out 'Allah!' It went on over a 24-hour period, and I would think that it
was over 100 strikes."
After the man died of heart failure, the medical examiner reported that "what caused his heart
to fail was 'blunt force injuries to the lower extremities.'" Later, in a military hearing, "one of the
coroners [said] the tissue in the young man's legs 'had basically been pulpified.' I've seen similar
injuries in an individual run over by a bus."
Had enough? Yeah, yeah, I know, we've heard it all before. Well, go here for more, and click on
"Interactive Feature: The Bagram File" in the left column. Golden narrates the story and its
background with the help of a slide show. Then hang your head in shame for a criminal U.S.
regime that has lied to the people and for a nation that has gone along with its lies.