It's good to see William Wyler getting his due from Time magazine film critics Richard
Schickel and Richard Corliss. In the current issue, they've chosen Wyler's "Dodsworth" as the best flick of the '30s, along with
Orson Welles's "Citizen Kane," Roman Polanski's "Chinatown," Quentin Tarantino's "Pulp
Fiction," Fritz Lang's "Metropolis," Ingmar Bergman's "Persona," Akira Kurosawa's "Ikiru,"
Krzysztof Kieslowski's "Decalogue" and Pedro Almodovar's "Talk to Her" as the best of their decades. (Have a
look at Time's top
100.)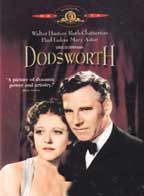 They'd get an argument about "Dodsworth" from fans of
"Gone With the Wind," of course — to say nothing of so many other '30s faves: "The Front Page,"
"Grand Hotel," "It Happened One Night," "The Informer," "All Quiet on the Western Front,"
"Drums Along the Mohawk," "Lost Horizon," "Jezebel," "You Can't Take It With You," the first
full-length animated film "Snow White and the Seven Dwarfs," "The Wizard of Oz,"
"Stagecoach" and "Wuthering Heights."
I rank "Dodsworth" among Wyler's best films myself. It has the most poignant moment of
visual poetry in his entire canon, a shot that sums up what the film is all about — failed marriage,
illusory dreams, capricious fate — in a single emblematic image. I also get a special kick out of the
film because of an inside joke. If you watch carefully as the camera pans across the tiny orchestra
in a Vienna nightclub where Sam Dodsworth's wife has gone dancing with a suitor, you'll glimpse
Wyler playing the violin. He's the guy in the middle of the front row.
Although Wyler is one of Hollywood's greats, with three
Academy Awards for directing on 12 nominations and more Oscar nominations for his films by far
than any other director, he's less famous than Billy Wilder, with whom he's often confused, less
celebrated than Frank Capra and John Ford, who were working at the height of their powers in
the '30s, and even less well-known than his longtime studio boss, the self-aggrandizing Sam
Goldwyn, who went out of his way to take credit for his accomplishments.
(Cheap plug here: Read all about it in my Wyler biography, "A Talent for Trouble.")
Schickel and Corliss rightly point out that the '30s was Hollywood's "highest romantic era"
and that "no film achieved more entrancing heights" in that period than "Dodsworth." But they
also say it was adapted from Sinclair Lewis's "best novel." Perhaps they were influenced by the
fact that "Dodsworth" was published in 1929, and Lewis won the Nobel Prize for Literature in
1930. Literary critics tend to rank it behind such earlier novels as "Babbitt" and "Elmer Gantry."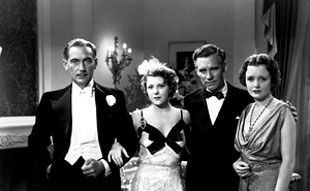 They also seem to think of "the divine Mary Astor" as the
star of the 1936 movie. Divine she is, but it's Walter Huston at the center of everything as Sam
Dodsworth, the self-made automobile magnate from Zenith, Indiana, and Ruth Chatteron, as his
wife Fran, who probably has the most screen time. Huston dominates the movie, which was
actually based not on the novel but on a hit play adapted from the novel that Huston starred in on
Broadway in 1934. It was "the greatest personal triumph of his stage career," to quote myself, and
the play was a smash largely on the strength of his magnetic portrayal.
One of the film's many great pleasures is to see Huston reprise the role on screen with all the
naturalness that Wyler valued. "No acting ruses, no acting devices," he said of Huston's
performance, "just the convincing power that comes from complete understanding of a role."
(Above, the cast from right to left: Mary Astor, Walter Huston, Ruth Chatterton, Paul Lukas.)