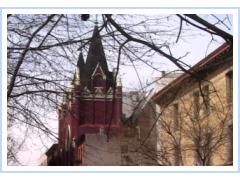 We come finally to "Greenwich Village" in Bill Osborne's video impressions
of New York. It's a festival of storefronts and street corners, monuments and sex boutiques,
mannequins and, most of all, lovely architectural facades — in all a sweet commentary set to
Ravel's playful "Chants populaires: no 1, Chanson espagnole."

Put on your headphones, click the photo or the title, give the video time to load, and enjoy.
As before, the music is performed by Catherine Robbin (mezzo soprano) and André Laplante
(piano), with Nora Shulman (flute); Camille Watts (flute); Joaquin Valdepeñas (clarinet); David
Bourque (clarinet); Mark Skzainetsky (violin); Mi Hyon Kim (violin); Steven Dann (viola);
Thomas Wiebe (cello). It's recorded by the CBC Records/Musica Viva label on the CD "Ravel: Mélodies" (Cat. #:
MVCD1128).
If you prefer the videos sequentially more or less as Osborne intended, instead of backwards
(per the usual top-down chronological order of posting), just click here from top to bottom:
Part 1: "Times Square at
Night."
Part 2: "Chrysler Building."
Part 3: "Inwood."
Part 4: "Ghost Reflections on Fifth Avenue."
Part 5: "Greenwich Village."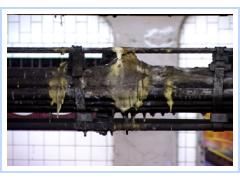 There are still more videos to see, if you like. Osborne has
posted a half-dozen others on his Website
besides these. Less complete perhaps, they might be considered outtakes. One, "Subway Stalgmite," strikes me as an apt 45-second
commentary on the subway's decrepit infrastructure. Straight Up's staff of thousands suggests it
be used as a public service spot by consumer advocates protesting fare hikes. It doesn't whine. It
doesn't carp. It makes its case with an entertaining tra-la-la.