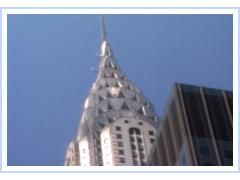 Since I'm away, my staff of thousands has come up with a
brilliant idea to amuse you and me together: Videos by the composer Bill Osborne, which he
made on the fly while he was in New York not long ago. He thinks of them as improvised Big
Apple portraits, which he's edited to fit selected musical scores. All told, they add up to something
like an essay. The first was posted Friday. Here's the second: "Chrysler Building."

Put on your headphones, click the photo or the title, and enjoy. Give it time to load. The
music, by Maurice Ravel, is "Melodies hebraiques: no 2, L'enigme eternelle," performed by
Catherine Robbin (mezzo soprano) and André Laplante (piano), with Nora Shulman (flute);
Camille Watts (flute); Joaquin Valdepeñas (clarinet); David Bourque (clarinet); Mark Skzainetsky
(violin); Mi Hyon Kim (violin); Steven Dann (viola); Thomas Wiebe (cello). It's
recorded by the CBC Records/Musica Viva label on the CD "Ravel: Mélodies" (Cat. #: MVCD1128).
If you prefer the videos sequentially more or less as Osborne intended — the staff does —
instead of backwards (per the usual top-down chronological order of posting), just click here
from top to bottom:
Part 1:
"Times Square at Night."
Part 2:
"Chrysler Building."
Typically, Osborne takes a modest view of his efforts. "The videos themselves won't sustain
much interest (especially given all of the video media that swamps our lives)," he messages, "but
they might be a useful small addition or footnote to your usual blogging when you get back to it."
The staff begs to disagree. It believes his moody improvisations are more than just footnotes. (He
also warns: "Many people won't have
the modem speed to watch them." Aaarrgghh.) Coincidentally, the Chrysler
Building's 75th anniversary is being celebrated this spring, and James Stevenson has an op-art birthday tribute in
this morning's New York Times. It begins like so: