Tim Rutten's media column (in the Los
Angeles Times on Saturday) noted that "National Public Radio's decision to sever its 21-year
connection to [David D'arcy, below] one of its most experienced arts reporters" — purportedly
because he was unfair to the Museum of Modern Art — raises doubts "about how its news
operation sets and enforces journalistic standards."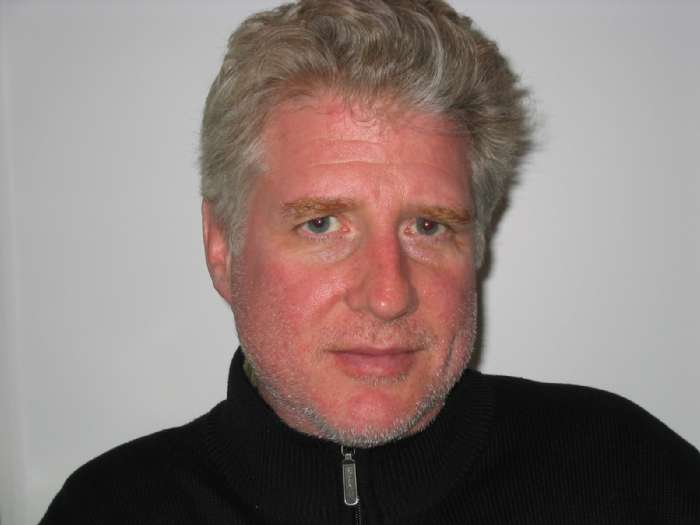 Trouble is, Rutten's column about the D'Arcy/NPR/MoMA
controversy is lodged behind the LAT's Subscription Curtain. So here's some
of what he wrote:
According to D'Arcy, he was questioned in a telephone conference with
Barbara Rehm and William K. Marimow, both of whom are managing editors of NPR News. As
D'Arcy recalls it, Rehm told him, "'there are real problems with your piece.' I was asked why I
didn't confront Lauder directly over the Schiele case. 'You made Ronald Lauder look like a
hypocrite,' I was told. [Lauder is chairman of MoMA's Board of Trustees.] Bill Marimow
said, 'You made these guys look like bad Jews,' while Rehm hissed 'shabby, shabby' in the
background. Then they told me I had violated every rule of journalism…. I don't think they
accused me of bombing the World Trade Center, but it may have been slipped in. They asked me
for all sorts of off-the-record material. Then, they said, we'll get back to
you."
When they did, it was to terminate his contract. With their lawyer listening in on the phone,
they also told D'Arcy his editor, Tom Cole, a staffer at "All Things Considered," was "suspended
without pay for one day and, Rehm, according to D'Arcy, told him that "Cole agreed with all the
criticisms and had showed the appropriate remorse."
Maybe NPR should change its letters to GULAG? How about GITMO? In any case, what did
Rehm have to say when Rutten called her for comment on D'Arcy's firing? Zilch. She didn't return
his calls. What did Marimow have to say? "We looked into this matter and we issued a correction
and that's all I have to say." In other words, more zilch.