Paul Wolfowitz's nomination to head the World Bank and John Bolton's to represent the United
States at the U.N., far from being promotions, signal a purge of neocons from policy-making
positions in the Bush regime.

So says investigative reporter Greg Palast, left, who was interviewed on Democracy
Now! about his recent BBC Newsnight report detailing secret U.S. plans to
privatize Iraq's oil resources and the political fight it sparked with the oil companies. They resisted
privatization because it would upset the OPEC monopoly and reduce profits for the oil
companies.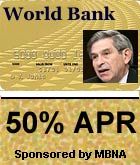 Wolfowitz is being "tossed out" of the Pentagon, Palast says, essentially at the
behest of the supposedly non-partisan James Baker Institute,
which represents Saudi Arabia and the big oil companies among its clients. In his BBC report,
broadcast this morning on D-Now!, Palast interviews Philip J. Carroll, the former CEO of Shell
Oil USA, among others, to back up documents he has obtained about the secret privatization
plans.
Carroll, who took control of Iraq's oil production a month after the invasion, "stalled the
sell-off scheme," Palast reports, and Carroll's "chosen successor," a Conoco Oil executive, Robert
McKee, "ordered up a new plan [from the Baker Institute] for a state oil company preferred by
the [oil] industry."
In his BBC story posted last week on
the second anniversary of the invasion of Iraq, Palast wrote:
Two years ago today — when President George Bush announced US, British
and Allied forces would begin to bomb Baghdad — protestors claimed the US had a secret plan
for Iraq's oil once Saddam had been conquered.



In fact there were two conflicting plans, setting off a hidden policy war between
neo-conservatives at the Pentagon, on one side, versus a combination of "Big Oil" executives and
US State Department "pragmatists."




"Big Oil" appears to have won. The latest plan, obtained by Newsnight from the US State
Department was, we learned, drafted with the help of American oil industry
consultants.
In addition to watching his interview on Democracy Now!, you can go to Palast's
Web site to see some of the documents.
He also links to his BBC online story and to a tease of his magazine story in the April issue of Harper's.
"The neo-cons, once in command, are now in full retreat," according to insiders and the
documents. "With pipelines exploding daily, the fantasy of remaking Iraq's oil industry also went
up in flames."
The tale has so many serpentine twists it's counter-counterintuitive. And Palast shows once
again why he is a snake charmer in a class by himself.