Now that the Jeff Gannon/James Guckert
story has made Keith Olbermann's "Countdown" newsquiz, it's safe to say the mainstream
media have taken notice of the latest White House farce. True, it was the last question in the quiz,
No. 14:




Name one of the other websites registered to Jeff Gannon/James Guckert besides
"jeffgannon.com".

+ zombo.com
+ hotmilitarystuds.com
+
bloggermann.msnbc.com
+ mulletsgalore.com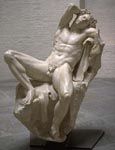 The
correct answer, of course, is "hotmilitarystuds.com" — although, as
Maureen Dowd notes this morning
in "Bush's Barberini
Faun" in The New York Times, Gannon/Guckert (now, courtesy of Dowd, a k a B'sBF) was also
associated with Workingboys.net, Militaryescorts.com, MilitaryescortsM4M.com and
Meetlocalmen.com. How does such "an enterprising young man … get to question the president
of the United States?" she asks. (The real Barberini Faun, at right.)
Well, here other various mainstreamers explaining it: Howard Kurtz yesterday in The
Washington Post; Joe Strupp yesterday in
Editor & Publisher; Jim Shea yesterday in the
Hartford Courant; Joe Conason
yesterday in the New York Observer; Sidney Blumenthal yesterday in
London's Guardian; and Frank Rich coming on Sunday in the Times — to name just a
half dozen, all of whom are playing catchup.
Dowd answers the question with her own question:
I was rejected for a White House press pass at the start of the Bush
administration, but someone with an alias, a tax evasion problem and Internet pictures where he
posed like the "Barberini Faun" is credentialed to cover a White House that won a second term by
mining homophobia and preaching family values?
Which pretty much explains how fishy things are. The Bush regime is "waging a jihad against
journalists," Dowd notes — and she's exactly right — "buying them off so they'll promote
administration programs, trying to put them in jail for doing their jobs and replacing them with
ringers."
Our poet in residence Leon Freilich makes light of the
issue:
I.D., I.D., HO
Who're the plants and who're the shills?
Try to guess —
Welcome all to Capitol
Hill's
Meet the Press.

But that's whistling past the graveyard, if you ask me.

Postscript: Freilich's retort:

FAKE REPORTERS COVERING A FAKE PRESIDENT
And if I laugh at any mortal thing,
'Tis that I may not weep.
–Lord
Byron
To laugh rather than to barf,
Is a far better thing by harf.
–Lowly
Me