Jason Leopold, whom I don't know, emailed me a while ago out of the blue: "Jan, Just wanted to
pass this along. Feel free to contact me and call my publisher for a review copy." This was
promotional material for his book, "Off the
Record," with blurbs from various authors and journalists. We all know how
hard it is for writers to get their books reviewed. I felt sympathetic. Plus, one of the blurbs was
from Greg Palast, who was quoted in the email and on Leopold's
Website as saying: "I love this book. I love Jason Leopold. When other US
reporters were licking Ken Lay's loafers, Leopold went for Enron's thieving throat. … Every
journalist in America should read this, then quit or riot."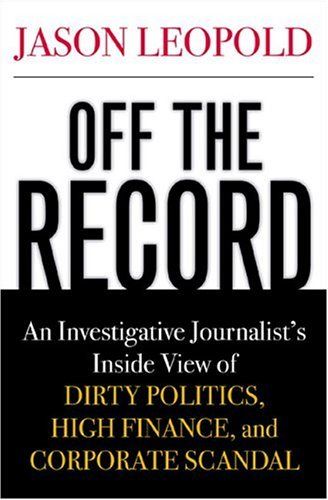 Whoa! Is there another Hunter S. Thompson in our midst? I
messaged back (How could I not?): "Thank you for letting me know about OFF THE RECORD.
I was unaware of it. I'd love to have a look at a review copy." I said I was duping the message to
the publisher's publicist and added: "That's quite a rave from Greg Palast." Leopold replied:
"Thanks so much for getting back to me. I love your work. [Ah, flattery.] I will make sure a
galley is sent to you this week."
I considered messaging Palast to make sure his blurb
was authentic. But then I thought, what the hell, I'll read the book and make up my own mind.
The galley proof arrived. The subtitle promised "An Investigative Journalist's Inside View of
DIRTY POLITICS, CORPORATE SCANDAL, and A DOUBLE LIFE EXPOSED." I began
reading and kept wondering, where's the inside view of dirty politics and corporate scandal? There
was almost nothing about that. The opening chapter teased me into believing there would be. The
closing chapter pretended there had been. Everything in between was about one subject only:
dirty, scandalous Jason Leopold, a conman who'd had a major story retracted and who bore no
resemblance to Hunter S. Thompson.
It turns out "Off the Record" is the tale of a reporter investigating his own obsessions, not the
corruption at Enron or the dirty dealings of public officials, except tangentially, when they
concerned Leopold's manic transgressions as a person and a journalist (two states of being which,
for him, were mutually exclusive). Where was the promised inside view of anything but his own
head? The book was compulsive reading, I'll grant it that. It made me feel like a lookey lu who
can't stop staring at the wreckage of a fatal crash. I kept watching the bodies being pulled out — in
this case just one body, Jason Leopold's, sad victim of an ego still grandstanding to the bitter
end.
Postscript: This week's Village Voice has a piece on Leopold and the book, which concludes by "questioning
whether 'Off the Record' will make it to store shelves," due to a potential defamation suit, or
whether "Leopold will suffer yet another retraction." The book is listed for online pre-orders at
both Amazon.com (linked above) and Barnes &
Noble.com but hasn't been released.