Sirhan Sirhan joined a conservationist suit, as noted in December, to preserve the Ambassador Hotel in Los Angeles, where Robert F. Kennedy was assassinated. Why? Because he and his lawyers believe that bullets still lodged in the hotel walls would prove he was not Kennedy's assassin. (Sirhan, below, in 1997.)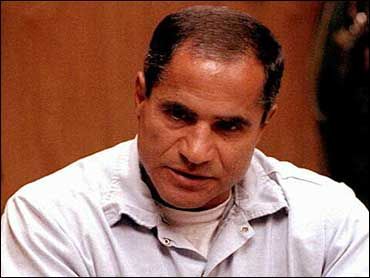 Now comes news that he may have a case, according to a new book, "Nemesis," which revives the theory that he was a patsy. British journalist John Hiscock writes in today's Los Angeles Times:
Ever since he was seized with a .22-caliber revolver in his hand in the pantry of the Ambassador Hotel in June 1968, Sirhan Sirhan has maintained he was hypnotized into shooting Sen. Robert F. Kennedy.

The contention was discounted by the jury, which, after deliberating for 16-1/2 hours, found him "alone and not in concert with anyone else" guilty of murder in the first degree. Almost everyone who studied the case subsequently agreed.

But nearly 40 years later, the story refuses to die. In recent months, several people have emerged to suggest that Sirhan may have been telling the truth; that he may have been hypnotized into becoming a "Manchurian Candidate"-style assassin.
The author of the book, Peter Evans, "using CIA documents and interviews," Hiscock writes, "claims to have identified the hypnotist as Dr. William Joseph Bryan, who had worked on CIA mind-control programs and who was later found dead in a Las Vegas hotel room in mysterious circumstances."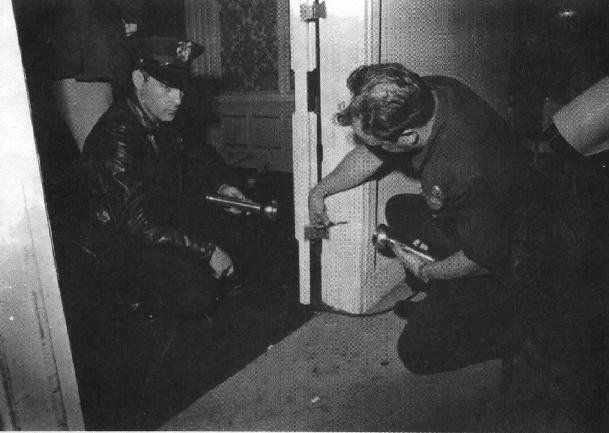 Believers in the theory, who include journalist Dominick Dunne and actor Robert Vaughn, who was a good friend of Kennedy, are asking to have the case re-opened. Evans and Sirhan's attorney, Lawrence Teeter, maintain that Sirhan was set up either to be arrested or, "preferably, shot to death by police while the real assassin escaped." Both admit that "Sirhan fired some shots before he was wrestled down," but they contend that "none of them hit Kennedy."
(Above, police officers examine bullet holes in a doorjamb at the crime scene.)
There have been plenty of theories about the bullets that killed Robert Kennedy, just as there were about the bullets that killed John Kennedy. Have a look at the list of trial exhibits kept in the California State Archive. It mentions roughly three dozen involving bullets, casings, ballistics, gun powder traces, Sirhan's gun, and so on. There's no mention of hypnosis, at least not on that list.