Filmmaker Danny Schechter's latest flick,
"Weapons of Mass
Deception," will be released later this week. Have a look at the 30-second TV spot to be aired in New York on CNN, Fox and
MSNBC. He sends this message:

Dear friends,
I am writing to friends, colleagues, and anyone I can think [of who] might be interested in
knowing that our film indicting media coverage of the Iraq war will be opening in New York at
the Village East Theater (12th and Second Avenue) on Friday evening (Feb. 4) for a week or
more, depending on the turnout.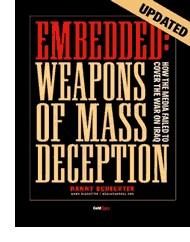 Winning a theatrical run for a hard-hitting low-budget film on the role of our media is
not easy. Working with Cinema Libre (the same company that distributed "OutFoxed") we have been
showing the film in cinemas, festivals and screenings worldwide. The response has been fabulous,
and coming just a few days after the U.S.-imposed "elections" in Iraq, "WMD" can't be more
timely. Despite a few mea-culpas for [its] pre-war reporting, much of the TV coverage continues
to ignore civilian casualties and war crimes.
We need your help in getting the word out through your email lists and personal contacts. We
don't have the kind of marketing budget you need to make a splash in New York. We do know
many grass-roots networks, media groups and anti-war organizations who could help us pack the
theater.
While some jaded reviewers defensively dismiss "WMD" for "telling us what we already
know" (even though it has largely not been reported) others have been very supportive: The
Chicago Reader calls "WMD" "a comprehensive and devastating critique of
the TV news networks' complacency and complicity in the war on Iraq … brilliantly argued and
scrupulously documented … a must see"
Doug Ireland writes: "In this film — which is much more
meticulously documented and more accurate than Michael Moore's "Fahrenheit 9/11," and
therefore infinitely more devastating — Schechter shows with precision how U.S. mass media have
been recruited as part and parcel of the Pentagon's war-propaganda machine." Vanity Fair's
Michael Wolff calls "WMD" "something of a comic masterpiece." You can read more reviews
online at WMDtheFilm.com and see the trailer narrated by Academy Award
winner Tim Robins.
"WMD" will soon be touring campuses and other communities. The DVD will be on sale
March 8th to mark the anniversary of the war. We have a "Teachers Guide" for classroom use as
well. If you can help us promote the film, write David@wmdthefilm.com.
I will have more updates on my newly revamped daily blog at Mediachannel.org. You can reach me at dissector@mediachannel.org. Thanks for your solidarity and
support,

Always unembedded and independent,
Danny Schechter, News Dissector
Editor,
Mediachannel.org
GLOBALVISION
575 8th Avenue, New York, NY l0018 212
246-0202×3006