**Maybe I shouldn't even mention it, I revise so chronically after the initial post. I think it's an age thing. I know how a blog is supposed to work–that it's off the cuff, that you say one thing and then forget about it so you can say another–but the big distinction for me from official print venues (where I get paid, yippee!!) is that there is no one but me to decide when it's done. So I may post in the true spirit of a blog, but I'm soon reverting to old habits and finding all sorts of horrible sentences and mixed-up ideas that need work; setting to work on them invariably prompts more thoughts and revisions. Only after a post has been hanging around on the Web for about a day and I have spent more time than I have for what began as a whim do I come to the realization, for the gabillionth time, that there will always be dopey notions and sentences, so I might as well give up on this case and move on to the next. Ah, progress!
I suppose the esteemed New York Times chief dance critic Alastair Macaulay is right that Alexey Miroshnichenko's Lady with the Little Dog "isn't the worst dog (sorry) ever seen on [the New York City Ballet] stage," though it was the worst my friend Carlene, my regular ballet companion, had seen. As Macaulay mentions, another older and more popular Soviet-ballet booster, Boris Eifman, takes the cake for awful. Eifman not only makes a travesty of the literature he submits to ghoulish treatment (Anna Karenina, for example), but he also offers an evil simulacrum of the ballet idiom. I remember my first encounter: I had been fully warned about the cornucopia of kitsch but not that the dancing would imitate the shapes of ballet while suctioning out all the muscles and bones. I got a terrible stomachache that first time, as if my body were supplying the guts missing onstage. And, sure, Miroshnichenko doesn't do that to ballet. But he does do it to Chekhov. The result is silly and boring more than horrifying, at least. If it were just a bit worse, it might actually be fun!

Here's what I had to say about it in my Financial Times review today:

The man in the Chekhov story who says, "We Russians of the educated classes have a partiality for questions that remain unanswered", could be describing his author – and a modern state of mind that ballet has been slow to embrace. Still, there are choreographers who would know what to do with the unresolvedness of "The Lady with the Little Dog", in which a chronically bored serial adulterer unexpectedly falls in love with his latest quarry, a married woman, and discovers "a new, beautiful life" beyond his reach. Alexei Ratmansky, for example, has characters spinning unhappily in circles of habit and circumstance. But Alexey Miroshnichenko is hard-pressed to create characters at all.

The St Petersburger's New York City Ballet premiere may have taken its name from the Chekhov story, but the two works only have in common a man and a woman. (The leprechaun-angels are the choreographer's own invention.) When Sterling Hyltin and Andrew Veyette strip to their underwear and roll around on the floor, it doesn't amount to even the simplest kind of love. Miroshnichenko doesn't do mental states. His choreography alternates between ballet school steps, which mean nothing, and senseless importations from civilian life, such as when a "naked" Hyltin gropes around in post-coital defeat for her clothes, except she wasn't wearing clothes. She was wearing a tutu.

Dog seems especially foolish sandwiched between Balanchine's edgy 1957 masterpiece Agon, to Stravinsky, and his imperial romp Cortège Hongrois.
Then I go on to talk about the evening's two Balanchine works and how Sean Suozzi saved the night for me.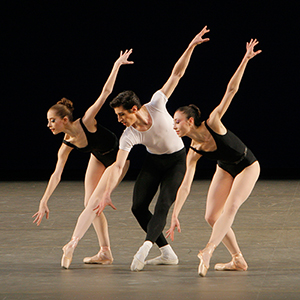 Sean Suozzi in Agon, with Rebecca Krohn, his glorious partner in Cortege Hongrois, to his right. Photo for the New York City Ballet by Paul Kolnik.
Macaulay comes close to offering that ballet truism that "there are no mothers-in-law in ballet," as Balanchine put it with typical wit–that this silent art inevitably makes a hash of complicated plots, with their intricate back stories. There may not be mothers-in-law, but there is psychological depth: Antony Tudor's Pillar of Fire, for example, and Balanchine's Davidsbundslerdantze. Literature may not have prompted these ballets, but it could have. If Miroshnichenko had actually attended to the Chekhov story, he might have had something. And Chekhov was a playwright, so his storytelling lends itself to visualization.
Here are the categories Dmitry Gurov, our serial adulterer, comes up with for the women of past affairs:
carefree, good-natured women who were exhilarated by lovemaking and grateful to him for the happiness he gave them, however short-lived; and … others–his wife among them–whose caresses were insincere, affected, hysterical, mixed up with a great deal of quite unnecessary talk, and whose expression seemed to say that all this was not just lovemaking or passion, but something much more significant; then… two or three beautiful, cold women, over whose features flitted a predatory expression, betraying a determination to wring from life more than it could give, women no longer in their first youth, capricious, irrational, despotic, brainless, and when Gurov had cooled to these, their beauty aroused in him nothing but repulsion, and the lace trimming on their underclothes reminded him of fish-scales.

Macaulay "applaud[s] Mr. Miroshnichenko in not weighing his ballet down with literal depictions of Chekhov's details," but what's striking about the details in the above paragraph at least is that they are precise without being literal and thus can lend themselves to dance. A choreographer might have tripled the Gurov character, so you have all three types of women each in a cluster with their own cloned Gurov. On one side of the stage we have the dance of the carefree and good-natured women (plus Gurov), and on another the dance of the pretentious and portentous women (plus Gurov) and downstage center the cold, beautiful, aging, predatory, and brainless (plus Gurov–witnessing them turn from mermaids to scaly fish in his arms). The women are multiplied to convey their type and the long line of his conquests, but they wouldn't have to all be there at once. They could move in and out of the wings to circle and dally around him, the choreographic geometry reflecting his sense of there always being more and more (and he's so grateful, really). The focus could shift cinematically between the three groups, as it does in Balanchine's Nutcracker party scene: a mashup of the man's past, kaleidescoped into the instant. Balanchine does something like that with the three Schumanns and Mrs. Schumanns in Davidsbundlertanze.

And dance can show cold and predatory and greedy; it can show capricious, irrational, despotic, brainless, and Gurov's repulsion too. Out of this first, busy scene, Anna–the hopeless young lady with the lapdog whom Gurov eventually falls in love with–might materialize, alone.
A choreographer could also show the first "bedroom" encounter between Dmitry and Anna, where she is sure he will not respect her once he sleeps with her–but, god, don't show us them stripping down to their underwear, with the lady flinging her blonde tresses around as in a wretched music video; show us a gradual though incomplete increase in trust and contact, as in Swan Lake when the hunter encounters his swan (but without the final submission).

When he realizes her impending infidelity causes her misery, Dmitry basically asks Anna (and haven't we all heard this chilling, bullying line before?), "So what do you want?" She wants something complicated and she's not sure what it is, but she could still dance something of that fire of wanting, at least, if not the thing she doesn't know. The solo could be a flingy off-balance affair as in Balanchine's The Four Temperaments, say. And Dmitry could dance being "bored to death," as Chekhov shockingly puts it, by her fear and tenuous hope; while Anna is suffering through her angsty solo, the carefree ladies of his past could be distracting him, flitting on and off like the sprites on the edge of Sleeping Beauty's vision scene. Occasionally, he returns his attention to the mopey spirit before him, perhaps lending a hand for a particularly reckless move of hers, before lapsing back into the less onerous visions in his head.

Would this be a story ballet? It wouldn't have to be, any more than other complicated-love ballets have been, such as Balanchine's Liebeslieder Waltzes or his Divertimento from "Le Baiser de La Fee." But it would still owe a great deal to its literary source.

The hardest thing to show is how Dmitry's boredom–and the story is steeped in boredom and silence–shifts into love. Chekhov doesn't know how to explain it either–which is what makes him so wise, that he doesn't try to, that he lets it remain a mystery, that he doesn't comment on the man's sea change. But he does show it–Dmitry clutches his head in the final scene and cries "How? How? How?"And ballets have shown it, too: there is the Poet in Balanchine's La Somnambula, for example. It might have been the heart of this ballet–the challenge and the excitement–to show us a pas de deux that radically changes mood as it goes. (For any of this to work, you would probably have to jettison the Shchedrin score and put something less soupy together.)
So, if there are no mothers-in-laws in ballet, there are at least the ghosts of mothers-in-law, and they should be welcomed more avidly onto the ballet stage.