I don't
have a whole lot to say about Christian Rizzo, though I would like to, because
his solo outing last weekend at CPR (Center for Performance Research)
was part of the French Institute Alliance Francaise's enterprising new
festival Crossing the Line,
which we are lucky to have.
The
French festival is a mini-version of the short-lived European Dream Festival,
which for one month two years ago spread out over 22 venues and encompassed all
of the arts in their most cutting edge aspects. No less than the European
Union–plus a bevy of European embassies–sponsored the Dream, and even so, it
only lasted a season; now in its second year, Crossing the Line has Goldman
Sachs, among other monstrous imploding corporate entities, as its sponsor, so
we'll see how long it lasts.
For the
Dream extravaganza, we were treated to our second look at Boris Charmatz, a brilliant
young French choreographer. For Crossing the Line, it's Rizzo, whom I hadn't heard
of until I heard that it was about time we New Yorkers got to see him.
According
to Movement Research Journal,
There are
many who have wondered what has taken New York so long. After NYC has seen
Jerome Bel, Xavier Le Roy, Alain Buffard, Boris Charmatz …it seems an obvious omission
not to have had one of the important members of this French generation of
dancemakers–a huge influence on international dance in the mid-'90s.
Wow: huge influence, important, French.
In Time
Out,
dance editor and writer Gia Kourlas less histrionically seconds the emotion (and offers Rizzo's
own words on what he thinks he's doing).
So maybe he
seemed old hat (and not a very interesting hat, at that) by the time he arrived
Stateside because New York dancemakers who take part in the experimental
circuit that runs from Berlin to–where? Utrecht?– had already absorbed him.
The
40-minute solo at CPR takes its name from the dancer for whom Rizzo made it,
the statuesque I-Fang Lin, a Taiwanese émigré of France. With the floor
stripped to its cement base, the white walls bare, and a set consisting of movable
equipment–mic stand, speakers, troughs of fluorescent lights laid out like
footlights, a suitcase on rollers–the stage gave off a sanitized warehouse air.
The performance was likewise spare.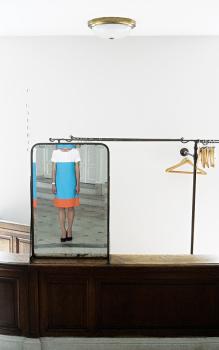 A different set than at CPR, but you get the idea







Lin faced
away from us at oblique angles and spoke huskily into a mic in Mandarin. She dipped into low, wide pliés while settling her arms and
mouth into an Expressionist mold. She lay on the cement, limbs carefully
arrayed. She changed her clothes–to begin, an '80s navy pantsuit (remember those
power blazers women would wear straight over their bras? Like that), accessorized with Allen
Ginsburg intellectuo glasses a la 1959 and espresso heels; to end, an elegant beach
dress with matching visor.




And she
moved the props around.





A lot.




She unplugged
the lights to plug them in somewhere else, placed the speakers just so, then
just so again. The performance began with a good five minutes of such fussing, which
recurred during what a less sophisticated artist might call transitional moments.




Which may
have been the point–Rizzo leveling the distinction between the show and the
interstitial operations that usually count as the not-show. Rizzo driving the
fourth wall to the wall.




A lot of choreographers
(Jonah Bokaer, Luciana Achugar, Beth Gill) have had dancers double as stagehands, turning the schlepping of equipment into part of the dance. It works when the aim isn't simply to demonstrate how clever you are. ("Look, Ma, the de-suspension of disbelief!") When
Achugar whacked down
the fourth wall in her Bessie award-winning "Exhausting Love" (2006), the
effect was to illuminate the rituals of boredom by which we live. (Check out
"Exhausting Love's" sequel, at Dance
Theater Workshop in a couple of weeks.) But Rizzo's "I-Fang Lin" never leaves the building.




True,
fiddling with equipment does really happen. When I'm copyediting, for example, I'm constantly
adjusting the height of my chair. But the difference between me with my
wretched chair and "I-Fang Lin" is the difference between me and, say, the guy doing
the floor design at Banana Republic. He's got something very definite in mind,
and he's going to achieve it; my chair will always be too high or too low,
because I shouldn't be sitting in it, doing this work.





I ended
up wishing Lin would just pile the extension cords and the speakers and the fluorescent
tubing and the suitcase and the changes of clothes in a heap and get on with it,
whatever it might turn out to be.




Crossing the Line closes tonight
with a double dance concert of Rachid Ouramdane and Pascal Rambert at PS 122
in the East Village. Here are my thoughts on Ouramdane's piece (scroll down a bit) at DTW this past spring.




Not to mire you in too many
choices, but tonight's also the last night to catch Ann Liv Young's "The
Bagwell in Me" at The Kitchen, in Chelsea. I'll
write more about it later, but this karaoke theater piece is moment-defining,
with its careless, easy transgressions of things one feels weird about being
easily transgressed. Young deploys a brilliant strategy for getting us around
and over the blasé state of mind that an overtitillated culture offers as the only exit.
And with a persona that's dumb, beautiful, bossy, and utterly lacking in
self-consciousness, she's the perfect performer to be doing her theater. Here's
Gia Kourlas's Times profile, from last Sunday.





UPDATE: Here's Claudia La Rocco's review (it seems she didn't like it!), and here's counter critic (who didn't like it, either!) and here's Andy Horwitz of Culture.bot blowing it and every bit of pretentious anti-dance dance he's ever seen to bits. (Go, Andy!–though I will say, it's not fair to judge the work by what the artist says about it, or what she says about herself, or about her peers–and certainly not by what is reported that she said. Young's remark to Kourlas that she "hates" what others make may have been one of those comically self-dramatizing overstatements –like the poet Marianne Moore saying, "I dislike poetry too," or me saying to some modern-dance detractor, "Yeah, I hate modern dance, too." Who knows. But Kourlas does have a habit of using a choreographer's words to advance her own critical agenda. We all do it to some extent, but hopefully not to the detriment of the artist herself.)





In any case, I'll really have to make a case for Young now! I should say that I haven't liked everything she's done–in fact, the first piece I saw I loathed so much, I booed. But this time around, I thought she had something important going on–and it isn't Karen Finley redux. It's Karen Finley for this precise flame-out moment.





More later. (And here it is).







Photo by
Christian Rizzo, borrowed from Time Out New York.




Related