I received this email recommendation from freelance dance writer Lori Ortiz of exploredance.com and the Performance Arts Journal yesterday:
Hi Apollinaire,

I saw Douglas
Dunn's press preview of "tanks under trees" last night. The show runs
through Sunday at his SoHo loft, which he has turned into a theater with
stadium seating. It's an opportunity to see amazingly evocative dancing by
Dunn, Liz Filbrun, Paul Singh, and Christopher Williams–dancers we can never
see enough of. Also if you haven't heard poet Anne Waldman read, there's
another must-see. She moves among the dancers and is totally invested. It's
completed by Mimi Gross's paintings–real, made with a brush– and has live
cello and percussion.

I am telling you
about it because it's one of only two companies I've seen this season that
directly addresses Iraq. (The other is Rebecca Kelly Ballet.) It is so
important that some artists are attentive. Although "tanks under trees" is mostly about
environmental doom, it ends strongly on an upbeat. The dance is loaded and
energizing. Even palliative.

Lori
Apollinaire
responds: Lori, thanks for the heads up. Yes, Douglas Dunn's dances can be wonderful–and his dancers always are. Readers, take note.

I'm
always on
the lookout for dances that address Iraq, too, directly or indirectly.
Recent ones
I've seen have included Los Angelena Victoria Marks' "Not About Iraq
Dance" at
Danspace (intermittently effective–still, worth seeing),
British-Bangladeshi Akram Khan and Belgian-Moroccan Sidi
Larbi Cherkaoui's astounding "zero degrees" at City Center and, yesterday, French Algerian Rachid
Ouramdane's "Far…," which goes the route of most young choreographers
vis a vis the war: a lot of lying around plus some variation of shaking in place.
(Ouramdane's shaking was more fluid than most: a variation on hiphop popping and locking.)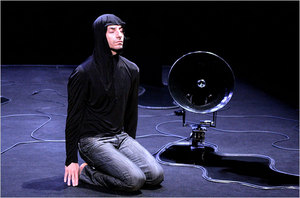 Alastair Macaulay of the Times was very impressed, but he hasn't been
here long enough to be worn out by the inertia. Inertia is the new movement, as the glossies might put it. It was
interesting for the first couple of years, but by now it would be
better to say something than to say over and over again that you are
too traumatized to say anything. When everyone's doing this, it may be
just as heartfelt as when only one person is, but it doesn't feel that
way.


"Far…" compensates for the movement cliches with its use of voice and face and web of space. The heart of
the piece is spoken testimonies–very relaxed, conversational–from the
choreographer's mother, plus other people Ouramdane's age also viewing the war through the semi-obscured lens of their parents. The Vietnam War,
as it happens, but we get the connection.


While we hear the person on tape, a
door-shaped screen at an oblique angle reveals a part of his face–like the memory we're getting only some shadowy version of. On the floor are mirrors like midnight lakes, as if we were looking
down on a map of a terrain bleached of color and light. A skein of strings only one shade lighter
than the gray ground–subtle, flickering in and out of
consciousness–webs between these dark reflective surfaces. Everything is bathed in Pierre
LeBlanc's midnight-blue light. The club music that
alternates with the speaking ricochets across the space, too. I like
Macaulay's point that the piece journeys through a collective unconscious (though I
would say it's a semiconscious).


About war pieces or the lack thereof, Lori,

I'm surprised there aren't more movement works, given how bodily warfare is. A
choreographer could
do so much with the ducking, the scrambling, the marching, the
machismo, the
intimidating, the torturing and being tortured, the barreling around in Humvees, the being blown up. I
know, I know: someone's going to say this is a hokey idea, and
presumptuous to imitate a war we're so removed from. It doesn't have to be
hokey, though. If you unloaded the movement from its generic meanings, took it apart piece by piece to see what the movement itself said, there
might be something there. Or a choreographer could do the opposite–work with the cartoon notions of the foreigner and us the "rescuers," as in the "South Park" boys' brilliant, hilarious animated movie "Team America."

But choreographers would have to be interested in movement. The current generation of experimentalists mainly isn't. I probably would have liked "Far…" more if it hadn't reminded me that contemporary choreographers with structural or conceptual savvy invariably offer mostly muttery moves.

Is speaking through movement (about something other than one's muteness) now considered an uptight thing–the exclusive domain of nerds and dorks?

UPDATE, Monday a.m.: Lori Ortiz and Foot contributor Eva Yaa Asantewaa offer interesting responses here.

For an earlier post on the inertia movement, here are my reflections on a riotous Chez Bushwick event out in Brooklyn last winter.

Photo of Rachid Ouramdane in "Far…" by Julien Jourdes, borrowed from the New York Times.